The Department of Public Health Sciences brings a unique, interdisciplinary approach to population health and clinical research, and to the generation, management and interpretation of basic science, clinical and health-related information.
The Department of Public Health Sciences collaborates in numerous School of Medicine and cross-university research initiatives, and serves as a bridge to others across the university and to the community at large.
The Department has the following sixsections of expertise that enhance intellectual exchange and collaboration among faculty and professional research staff.
Department faculty members provide a wide range of Research Collaboration and Consulting support and services to School of Medicine faculty, departments and others.
The Department also provides a robust Educational Program in public health and clinical and population research at the undergraduate, graduate, and professional levels ( Prospective students click here).
More information about the Department is available through the Office of the Chair and the Mission Statement and History.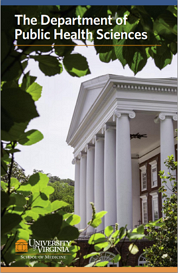 View our departmental brochure