Claude Moore Medical Education Building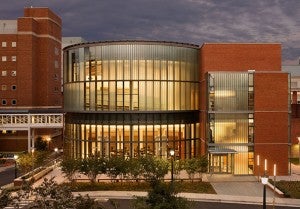 The Claude Moore Medical Education Building, which opened in August, 2010, is the five story home to the Medical School and the state-of-the art facilities created for The School's Next Generation. It contains the innovative Learning Studio and the Clinical Performance Education Center (CPEC). CPEC's two floors contain the Medical Simulation Center and Clinical Skills Center. The Mulholland Student Lounge, an auditorium, Student Affairs Office and the Office of Admissions are also housed in the building.
The Medical Education Building is integrated into the larger Medical Center and University complex. A link connects students to the Claude Moore Health Sciences Library, the new Carter-Harrison Research Building, and the University Hospital. In turn, catwalks connect to the Emily Couric Clinic Cancer Center and the clinical and administrative spaces in nearby buildings.
Learning Studio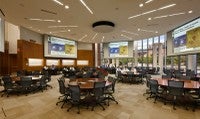 The Learning Studio, a technology-enabled, active-learning (TEAL) classroom, was designed for the Next Generation curriculum. This interactive learning environment uses the latest technology to engage students in active learning. This space incorporates the five modalities of adult learning. Five technologically sophisticated screens – each measuring 20 feet across – descend into the space and tie into each group table, so that students can share with a small group or the entire class. Most sessions are recorded and are easily retrievable by podcast and on the web.

Clinical Performance Education Center
(Medical Simulation Center and Clinical Skills Center)
Medical Simulation Center (SIM Center)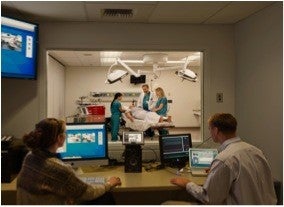 The Medical Simulation Center is one floor of the Clinical Performance Education Center. On the ground floor, it has four fully realized clinical spaces: an intensive care unit (ICU), an operating room (OR), a labor and delivery suite (L&D), and an emergency room (ER). All spaces are fully equipped so that students are in a fully replicated space in which they can work with patient simulators, which breathe, speak, and respond to procedures and medications. Behind a one-way mirror, operators can also manipulate simulators providing students with real time experiences. In addition, there are seven task training rooms for proceedures such as endoscopy, endotrachial intubation, and ultrasound surgical central line placement.
The Clinical Skills Center, located on the basement floor of the building, contains 20 outpatient exam rooms and inpatient rooms used to train students on clinical skills with standardized and real patients. All of these rooms are fully equipped with audio and video capabilities as two or three cameras capture various views. An observation hallway has one-way mirrors into four exam rooms.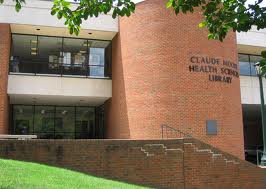 The Claude Moore Health Sciences Library is a central gathering place for students, with a variety of study and learning facilities throughout the building.  There are small group study rooms, open areas with natural lighting and comfortable seating as well as a large, 24 hour study area. Students can bring their own computers and connect wirelessly to the network or use the network connections in the library. In addition, there is a large computer lab, scanning stations and printing services.
The library has an extensive collection of online resources, journals and books that are available in the library and remotely. The Medical Education Librarian works with students and faculty throughout the four years to enhance information seeking skills and critical thinking. The library staff meets with representatives of the Mulholland Society on a regular basis to ensure that the library is responsive to student needs.
In addition to the computer services available through the Library, several courses including anatomy, biochemistry, microbiology, physiology and pathology use computer-assisted instruction. The Office of Medical Education provides assistance to students and faculty in the development of programs for instruction and self-testing.
Clinical Facilities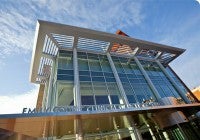 The Emily Couric Cancer Center opened its doors to patients and their families in April 2011. A patient-centered philosophy and approach was imagined architecturally resulting in a Gold LEED-certified building and a beautiful set of spaces. The Center has state-of-the-art facilities ranging from high-tech imaging to intra-operative brachytherapy suites. Comprehensive care includes patient and family services and education, counseling spaces, and a positive image boutique. The eco-friendly design includes spaces for meditation and reflection surrounded by gardens and other outdoor spaces.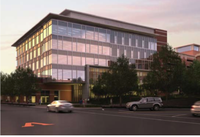 The Battle Building The Bill and Barry Battle Children's Hospital is the largest addition to the UVa Health System, completed in Spring 2014. It includes an outpatient surgery center and outpatient clinics that include: primary care, cancer, autism, heart disease and other specialties. Family-centered, state-of-the art care is provided within approximately 185,000 square feet and is linked directly to University Hospital.  The University of Virginia's famed Academical Village is a short walk away.
University Hospital completed an initial expansion of 72 beds, all ICU compatible that can be changed as needed between inpatient beds and ICU beds.  It is now home to a larger Medical ICU and a larger Surgical ICU. Another expansion is underway for the Emergency Department and the Department of Radiology. This will be the base for a new 6 storied bed tower which is scheduled for completion in 2019.
The UVA Transitional Care Hospital (TCH), a long-term acute-care hospital, was completed in Summer 2010. It offers patients with serious and complex medical conditions services that generally require a longer length of stay (on average 25-28 days) than is standard at the University Hospital. The longer stays are to assist with weaning from ventilators, wound healing, complex IV regimens or other services that require an interdisciplinary team of nursing, physical, respiratory, speech and language therapies, and nutritional and physician care. These are provided on an ongoing and more intensive basis than a rehabilitation facility or other skilled facility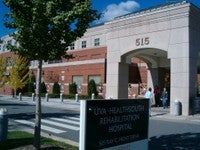 The UVA-HealthSouth Rehabilitation Hospital is a 50-bed acute rehabilitation hospital that offers comprehensive rehabilitation services for both inpatients and outpatients. It is located about 3 miles from the University Hospital at Fontaine Research Park, which is also home to many other clinics and research facilities.  A continuous shuttle is available between the University Hospital and all of the sites.