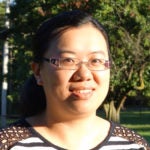 Yu Pang
Graduate Student
Chemistry
Pinn 4017
Email: yp5zr@virginia.edu

EDUCATION
08.2018-Present, University of Virginia, Charlottesville, VA
PhD student, Department of Chemistry, Graduate School of Arts and Sciences
08.2013-05.2016, Temple University, Philadelphia, PA
Master of Pharmaceutical Science, Moulder Center for Drug Discovery Research                                                 
 09.2009-06.2013, China Pharmaceutical University, Nanjing, CN
Bachelor of Science in Pharmacy, School of Pharmacy                                                                                        
PROFESSIONAL EXPERIENCE
Research Assistant, ALS center, Thomas Jefferson University, Philadelphia, PA               12.2016-05.2018
Generate C9orf72 nucleotide repeat expansion containing plasmids.
Transform Stbl 3 cells with repeat containing plasmids and digest purified DNA to release the repeat.
Analyze the repeat by agarose gel electrophoresis and sequence to determine the repeat size.
Research Associate, Critical Reagents, Novavax Incorporated, Gaithersburg, MD           06.2016-10.2016
Managed reagents inventory and distributed critical reagents and reference standard as requested for tests.
Purified anti-RSV IgG from animal serum via affinity chromatography (Protein A/G) on KTA Explorer/Avant system.
Performed immunoassays, including ELISA and Western blotting for antibodies to test their specificity and coverage following appropriate SOPs.
Discovery of Anti-Histone 3 Antibodies as Potential Biotherapeutics for COPD                09.2014-05.2016         
Mastered solid-phase panning of MorphoSys Ylanthia® phage display libraries against Histone 3.3 on 96-well high-binding plates.
Subcloned output to expression vector and selected positive candidates by Expression ELISA.
Achieved protein expression and purification via IMAC and SEC on KTA Explorer system.
Verified binding specificities of antibodies by ELISA and analyzed binding kinetics by biolayer interferometry (ForteBio system).
Solution-Phase Panning of Phage Display Library against Bioconjugated Target             02.2015-07.2015
Accomplished biotinylation of histone 3 and analyzed biotin incorporation by fluorescent assay and Bradford protein assay.
Panned phage display library against biotinylated-Histone 3 in solution using Streptavidin-coupled magnetic microbeads and conducted antibody expression ELISA to screen output after three rounds of panning.
PUBLICATION
Westergard, Thomas, Kevin McAvoy, Katelyn Russell, Xinmei Wen, Yu Pang, Brandie Morris, Piera Pasinelli, Davide Trotti, and Aaron Haeusler. "Repeat‐associated non‐AUG translation in C9orf72‐ALS/FTD is driven by neuronal excitation and stress." EMBO molecular medicine11, no. 2 (2019).