Contact
Department of Anesthesiology
University of Virginia Health System
Department of Anesthesiology
PO Box 800710
Charlottesville, VA 22908-0710
(T) 434.924.2283
(F) 434.982.0019
Office of the Chair

George Rich, M.D., Ph.D.
Harrison Medical Teaching Professor and Chair
Leslie Walker, Executive Assistant to the Chair
4745  Steele Wing
434.924.9508
Residency Program & Fellowship Contacts: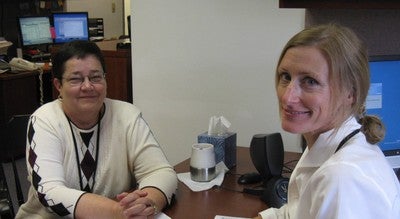 Residency Program Director – Julie L. Huffmyer, M.D.
Critical Care Fellowship Director – Bhiken I. Naik, MBBCh
Pain Fellowship Director – Lynn R. Kohan, M.D.
Regional Anesthesia Fellowship – Ashley M. Shilling, M.D.
Callie Keller, Education Administrator
434.982.4307
Patty Jenkins, Education Coordinator
434.924.9509
For Patient Care Issues
Pre-Anesthesia Evaluation and Testing Center (PETC)
434.924.5035
Billing Issues
Alice Mooney, Billing Manager
434.982-6779
Our physical location address for package delivery
1215 Lee St.
4748 Steele Wing
Charlottesville, VA 22908
Additional offices in the OR area
Anesthesiology also has an administrative office, room 2807, in the University Hospital, near the OR suite.
Parking
There are several parking lots and garages on University Avenue convenient to our offices, as well as some 2-hour meters and unmetered spots on the street.  There are two Medical Center parking garages.  If you are a patient or visiting a patient, you can park in the Lee St. garage and your parking can be validated in the lobby of the main hospital.  If the Department of Anesthesiology has agreed to validate your parking, you must park in the Eleventh St. garage. From that location, you can easily reach the administrative offices by walking along Main/University Avenue or the hospital offices by walking through the Lee St. garage to the hospital.