New Chair
New Anesthesiology Department Chair, Peggy P. McNaull, MD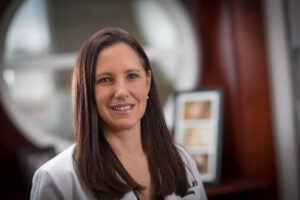 We are pleased to announce that Peggy P. McNaull, MD, has been appointed as the John Rowlingson Professor and Chair of the UVA Department of Anesthesiology and Professor of Pediatrics, effective December 1, 2020.
In this position, Dr. McNaull will continue the department's history of excellence in providing anesthesiology services across multiple sites, training the next generation of anesthesiologists, and developing anesthesiology research programs.
Background
After completing her BS at Georgia Baptist College of Nursing in Atlanta, Dr. McNaull practiced as an RN in the Neonatal and Pediatric Intensive Care Units. She continued to serve as an RN in the NICUs in multiple hospitals while earning her MD at Louisiana State University SOM. She completed her Anesthesiology residency at the UNC Hospitals where she was Chief Resident. She also completed her Pediatric Anesthesiology fellowship at UNC Hospitals before entering the Pediatric Cardiovascular Anesthesiology fellowship program at Texas Children's Hospital in Houston.
From 2009 until 2018, Dr. McNaull served as the UNC Anesthesiology Division Chief for Pediatric Anesthesiology. She fostered the development of preeminent programs in pediatric anesthesia care including the only anesthesia-managed Pediatric Pain and Sedation Service in the state of North Carolina.
In 2014, Dr. McNaull was appointed as the first Vice Chair for Patient Safety and Quality Improvement for the UNC Department of Anesthesiology, which employs over 80 faculty, 60 residents and fellows, and 90 Certified Registered Nurse Anesthetists. Under her leadership, the department instituted an electronic medical record-based tool for the reporting of all adverse events. She established a robust Patient Safety and Quality Improvement Committee to review all adverse events and implement quality improvements. Dr. McNaull oversaw the development of the department's opioid stewardship and enhanced recovery programs, the success of which led to their selection as the flagship programs for a new system-wide care redesign effort that is being spread to the other ten hospitals in the system. In 2018, Dr. McNaull was appointed the Associate Chief Medical Officer (ACMO) for Quality and Safety for UNC Hospital system.
Affiliations
Dr. McNaull has a national reputation in pediatric anesthesiology and is a member of the Board of Directors for the Society for Pediatric Anesthesia (SPA). She was program chair for last year's annual SPA meeting, and she co-chairs a task forced charged with re-envisioning the future of the Pediatric Anesthesiology ACGME program. She has held a position with the ABA since 2009 and was recently promoted by the board of directors to serve on the Advanced Exam Committee.