Cardiac Anesthesia Rotation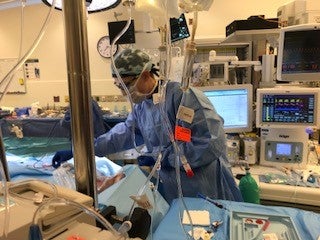 The Department of Anesthesiology at the University of Virginia provides an exciting and challenging rotation in cardiothoracic anesthesia. Cardiovascular medicine and cardiovascular sciences are a particular center of strength at the University of Virginia and this is reflected in the cardiac anesthesia rotation. Residents rotate on the cardiothoracic anesthesia service for one month, beginning at the end of the CA1 year. Additional experience is available during the CA3 year.
Approximately 850 adult and pediatric cardiopulmonary bypass cases per year are performed in 3 new cardiovascular operating rooms. There is an excellent case mix, including coronary bypass grafting, all types of valvular lesions, complex congenital heart disease, off-pump coronary surgery, and heart and lung transplantation. We have a very wide and growing patient referral base. Cardiac operating rooms and monitoring equipment are truly state of the art.
Residents are exposed to transesophageal echocardiography before beginning the cardiac anesthesia rotation, with additional opportunities for specialty rotation in this area. Absence of a cardiac fellowship program means that residents are involved with all cases, including the most difficult and complex. We enjoy an extremely close relationship with both the pediatric and adult cardiology echo services. Many CA3 residents elect to spend an intensive month studying transesophageal echocardiography in a rotation run jointly with the echocardiography service of the Division of Cardiology of the Department of Medicine.
Cardiac Rotation Faculty
The cardiac anesthesia faculty is a diverse group with exceptional clinical and academic strengths in the areas of cardiac, pulmonary and vascular physiology and anesthesia.