The Division of Perioperative Informatics
The temptation to form premature theories upon insufficient data is the bane of our profession.
— Sherlock Holmes
The Division of Perioperative Informatics is headed by Dr. Bhiken Naik, and is a collaboration between physicians and data scientists that seeks to use aggregate quantitative perioperative data to improve patient outcomes. We work across medical disciplines to increase patient safety, identify quality improvement opportunities, create and define objective metrics to evaluate and compare physician performance, and provide opportunities for cost effective and efficient retrospective research for publication.
Through the Multicenter Perioperative Outcome Group we collaborate with over 50 peer institutions world-wide to aggregate millions of cases and billions of data points, which creates unparalleled opportunities for both research and quality improvement.

Some of our recent projects include evaluation of intraoperative opioid dosing with comparison of post-operative pain scores, reviewing major spine surgery patient's condition upon arrival in the ICU (acute kidney injury, hemoglobin, and blood products administered), and appropriate perioperative antibiotic timing.
In addition, the Division provides quantitative data support to administrative systems within the department and the institution. This includes generation of reports on clinical practice and outcomes, dashboard maintenance at the departmental and institutional levels, and evaluation and benchmarking of educational activities (e.g. case listings for residents) and clinical workload (e.g. call distribution).
See the menu for links to pages listing members of the Division and recent publications.
To request our participation in a research project, please use the Perioperative Database Project Request form.
---
Featured perioperative informatics study
Individualized feedback to residents using perioperative informatics
Dr. Forkin and colleagues studied individualized feedback to residents about their documentation of quantitative depth of neuromuscular blockade. Data were obtained from our perioperative database systems. Feedback raised documentation rates from 80% to 95%, but this improvement was not sustained completely over 6 months.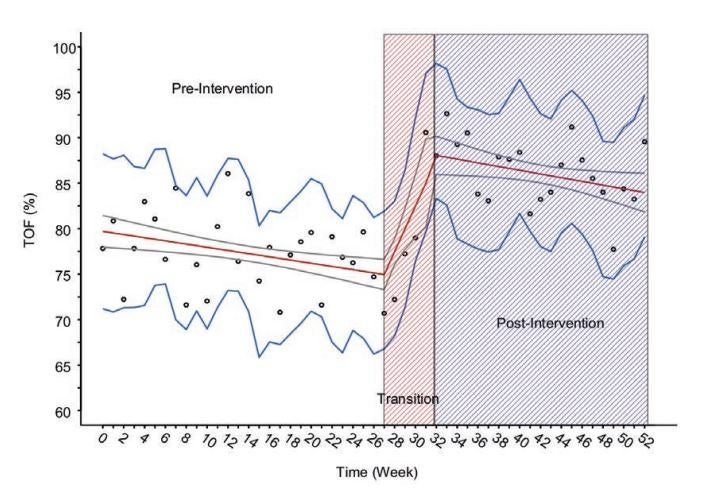 Forkin KT, Chiao SS, Naik BI, Patrie JT, Durieux ME, Nemergut EC. Individualized Quality Data Feedback Improves Anesthesiology Residents' Documentation of Depth of Neuromuscular Blockade Before Extubation. Anesth Analg. 2019. PMID: 31136324. Copyright © 2019 International Anesthesia Research Society
---