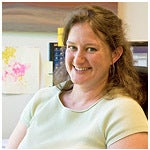 Bailey, Elaine T.
Assistant Professor
etbailey@virginia.edu

Elaine T. Bailey earned her Ph.D. in clinical psychology from the University of Arizona in 2006 under the mentorship of Dr. Richard Bootzin. She is an Assistant Professor in the Behavioral Health and Technology program area where her research interests focus on treating sleep disorders using Internet interventions. She is currently working on a project sponsored by UVA's Cancer Center that tests the ability of SHUTi, an Internet intervention for insomnia, to improve sleep in cancer survivors. Clinically, she sees patients at the Behavioral Medicine Center where she conducts weight reduction surgery assessments and provides cognitive-behavioral therapy for patients experiencing a variety of medical and psychiatric problems (e.g. insomnia, encopresis, anxiety and depressive disorders).
Dr. Bailey obtained her undergraduate degree at Duke University where she studied biology, psychology, and college basketball fandom. She is a loyal Blue Devil fan, but has learned to love the Virginia Cavaliers as well. Dr. Bailey's idea of an ideal afternoon includes a canoe trip with her husband and their two children, born in 2004 and 2007 (plus, of course, chocolate and a nap).