Mike McConnell, Ph.D.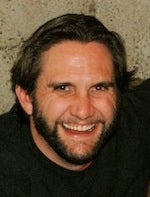 Assistant Professor
Department of Biochemistry and Molecular Genetics
Research Interests:
The Cause and Consequence of Somatic Mosaicism in Neurons
The brain is a genetic mosaic. Neuron-to-neuron genomic differences – brought about by endogenous mobile element activity, by idiosyncratic sub-chromosomal amplifications and deletions, and by whole chromosome gains and losses – are hypothesized to "individualize" behavioral phenotypes. To explore the causes and consequences of genetic mosaicism in neural circuits, my laboratory develops high-throughput single cell approaches and employs these approaches to study human induced pluripotent stem cell (hiPSC)-derived neurons, as well as transgenic mice. We have three immediate research goals: 1) determine if genetic mosaicism leads to somatic selection during the development of neural circuits; 2) understand how genetic mosaicism affects the performance of neural circuits; and 3) discover genes that mediate the propensity for genetic mosaicism. Moreover, altered levels of mosaicism have been associated with neurodegenerative (e.g., Ataxia-telangiectasia) and neuropsychiatric disorders (e.g., schizophrenia and Rett's syndrome). A deeper understanding of these and other neurological disorders is expected from ever-increasing understanding and measurement of neuronal genomic diversity.
PubMed Link to Current Publications

Email Address: mikemc@virginia.edu
Jordan Hall Room 6042
1340 Jefferson Park Ave.
Charlottesville, VA  22908
tel: (434) 924-0154