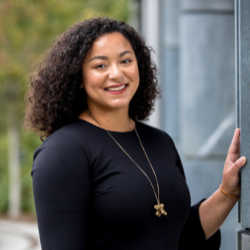 Maria Ali, a graduate student in the Kucenas lab, has won the Graduate Biosciences Society Student Leadership Award for 2020. This student-nominated award recognizes graduate students in the Biosciences who have made outstanding and notable academic, professional, social, and/or service contributions for the University of Virginia and the local community.
Maria is an Inclusive Excellence Fellow for the Office for Diversity, Equity, and Inclusion, a F31 Pre-Doctoral Fellow with the NIH National Institute of Neurological Disorders and the Founder and Leader of OURS (The Organization for UnderRepresented Students). OURS provides a safe space for Ph.D. students from underrepresented backgrounds to connect and discuss challenges.
We asked Maria to tell us about her research and her hopes for the future. Here's what she said.
Tell us about your research.
"My research focuses on the development of the central nervous system (CNS) using zebrafish as a vertebrate model. I am particularly interested in oligodendrocyte progenitor cell development and how these cells migrate rapidly throughout the CNS."
What drives or motivates your scientific pursuits?
"I am motivated by clean and thorough experiments that get to the heart of basic developmental phenomena. Much of science is rightfully motivated by clinical applications, however, there are still so many unknowns about the basics of development. Better understanding of basic developmental principles are extremely important when it comes to figuring out what is happening in clinical states. I am driven by doing science to reveal how the nervous system develops so that we can better understand it when something goes wrong."
What are your future goals?
"Throughout my time as a woman of color in science, I was unable to ignore the vast disparities and lack of representation that exists throughout my field. I am passionate about uplifting marginalized voices and I hope to marry that passion with my love for Neuroscience in my future career."
Congratulations on winning this award, Maria!