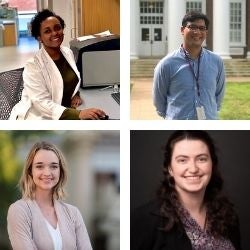 For Gustavo Pacheco, it wasn't an option to move forward with lab research without stopping to acknowledge the debilitating hurt and anguish his colleagues felt over the loss of Black lives.
Coming off 10-weeks of a lab shutdown from COVID-19, Gustavo, a Mexican-American MD/PhD student conducting research in the Department of Cell Biology, set out to create a safe space to reflect and support all members of the department regarding the unnecessary killings of Black Americans and the protests against police brutality and racial injustice.
What started with a single discussion in May developed into the Department of Cell Biology Anti-Racism & Inclusion Initiative (ARII). Gustavo describes the ongoing group discussions as "topical sessions on the intersection between racism and eugenics, environmentalism, and COVID-19".
Following the first discussion, an editor from Nature contacted Gustavo to learn more about how science communities can be allies with Black scientists and scientists of color. They invited him to submit a letter to the editor about the discussion groups.
With the publication in Nature, Gustavo received a second contact, this time from an editor for Cell, inquiring about how to start anti-racism discussion groups. Gustavo and the other organizers of the initiative, Faith Karanja, Raegan Bostic and Danielle DaCrema, submitted a commentary piece explaining the importance of anti-racism work for basic science departments, and sharing guidelines for organizing discussions on anti-racism and inclusion.
We asked Gustavo to share more about the Department of Cell Biology Anti-Racism & Inclusion Initiative. Here is what he said.
What are your goals as a group?
"What we often hear when you bring up discussions about racism is 'why don't white people just stop being racist'. We want to dismantle the idea that the racism in our society is just about bias discrimination. The systems and policies that govern our everyday life are based on biased ideologies that keep Black and scientists of color at a disadvantage. We want to identify the issues that we have continued to ignore. We need to educate each other on how to identify racism in all its forms. We need to approach this as the scientists we are, identify the problem, find the solution, and do it persistently until we are truly diverse and inclusive."
Are you looking for students and others to become involved with the efforts of the group?
"Always. We constantly invite anyone (faculty, staff or trainees) to participate in the discussions as journal club presenters or just be present to listen. We also hope that other departments will have similar conversations of antiracism, diversity and inclusion."
What else would you like people to know about your efforts?
"White scientists have often felt uncomfortable participating in discussions on racism. However, creating an inclusive research environment will be challenging without the support of allied white scientists. Building a coalition of scientists who aspire to create an inclusive research environment will be critical to continuing change."
If individuals would like to participate in the Department of Cell Biology ARII discussions or learn how they can start similar discussions in their own department, please contact Gustavo Pacheco [ggp7xx@virginia.edu] or Raegan Bostic [rrb5v@virginia.edu].