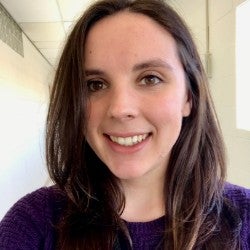 A little over a year ago, Naomi Atkin hit publish on her first article for her new website, The Science Gnomad. Through her website, this book-happy 6th year Biochemistry and Molecular Genetics student is providing reviews of engaging and accessible science books and articles. By highlighting a variety of topics, she strives to show non-academic audiences how fun and approachable science can be, while also making the reader think about how science fits into society and the problems we face every day.
We asked Naomi to share more about why she started her website, her research and her hopes for the future. Here's what she said.
When and why did you start the website?
"I started my website in September 2019. I started out writing book reviews of science-focused books because whenever I would read one, I would spend a lot of time telling my friends or family really cool facts I was learning, as well as the discussions that these books would raise about science's impact on society. At the time, I didn't know of anyone else doing this and I wanted to get more experience writing for more general audiences, so I thought it would be a fun way to practice since I've always loved reading and talking about books."
What is the focus of the website and your writing?
"Right now I have two types of posts that I do for the website: book reviews and article summaries. I try to not focus too much on one topic. Partly because I want to learn new things and also partly because I want to help other people get exposure to topics they wouldn't have considered on their own. I've reviewed books that have covered conservation, climate change, cancer, genetics, and public health. For the article summaries, it's really anything that catches my eye when I'm doing my usual look through of recently published articles for lab. I've found articles about the flight dynamics of dandelions, how we sense/perceive pain, and how whaling in the early 1900s affected cortisol levels in baleen whales. I've still got so many more books and articles stashed away that I'm excited to get to and write about!"
How has writing and the website impacted you? Was there anything that surprised you about doing it?
"Writing across all these different topics has really helped me feel more comfortable with reading or trying to understand science that isn't necessarily within my expertise. It's also helped me realize how there is always a story behind any topic and that so much of what we view as disparate areas of study are actually connected in some way. Honestly, I'm always surprised when someone, even if it's just family, tells me they decided to read one of the books I wrote about. After that, I've been surprised at how much I enjoy learning the basic coding to customize my website so it looks exactly how I want. I always thought it would be a big undertaking to get a website up and running, and while it is work to manage it, it's nice to have something physical that I can show for my time and represents what I love doing."
Tell us about your research in the Yuh-Hwa Wang lab? 
"My research focuses on examining what genomic features (i.e. protein binding/activity or alternative DNA secondary structures) contribute to DNA fragility, and how this fragility then relates to cancer susceptibility. I'm particularly interested in extending these concepts beyond cell culture models and working with patient samples so that we can get a better picture of what is happening in normal cells of people so that we can better predict who is at risk for developing cancer."
What do you hope to do in the future?
"I want to either get into scientific editing at a journal or work as a medical/scientific writer."
Visit The Science Gnomad.