Molecular and Systems Neuroscience
About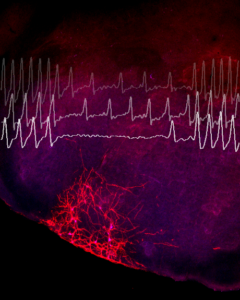 Research in Molecular & Systems Neurophysiology at UVA focuses on the structure and function of neural circuits and systems in a multitude of behaviors and disease states including perception, feeding, drinking, social interactions, as well as diseases and disorders, such as breathing, drug addiction, post-traumatic stress, eating disorders, epilepsy, and Alzheimer's.
Researchers in this area study the neural mechanisms by which information, decisions, and actions are stored, passed along, and performed in the brain and greater CNS. We employ a highly multidisciplinary toolkit, including optogenetics, electrophysiology, multiphoton imaging, computational modeling, and developing the next generation of research tools, from gene therapies  to sensor molecules.
The diverse set of interests and techniques available within the Systems Neurophysiology area allows students to concentrate on a particular topic or set of techniques, yet receive broad exposure to many disciplines within systems neurophysiology. These faculty offer an immersive approach that combines cutting-edge research, rigorous training, foundational coursework, and collaborative opportunities that prepare students for a rewarding career at the forefront of neuroscience.
Facutly