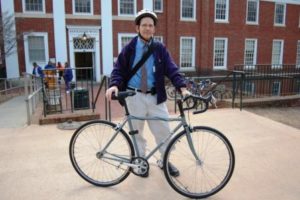 Daniel M. Becker
Tussi and John Kluge Professor of Palliative Medicine and Director, Center for Biomedical Ethics and Humanities
B.A., University of Pennsylvania
M.D., Washington University School of Medicine
M.P.H., Harvard School of Public Health
M.F.A., Warren Wilson College (while working full time at UVA)
Daniel M. Becker is the Director of the Center for Biomedical Ethics and Humanities; the Tussi and John Kluge Professor of Palliative Medicine; a Professor of Medicine in the Division of General Medicine, Geriatrics and Palliative Care; and founding and current poetry editor for Hospital Drive magazine.  He was the inaugural recipient of the UVA School of Medicine "master clinician" award and the 2015 recipient of the Gold Humanism in Medicine Foundation Leonard Tow award.
Current projects include the use of story at medical clinic, how to make phone calls that no doctor ever wants to make, appropriate use of medical Spanish by the non-fluent Spanish speaker, how to listen closely and how to teach close listening (the "clinician's ear).
He has a general medicine continuity practice that includes patients and families he has known for 25+ years, serves on the Palliative Care Consult Service at UVA Hospital, directs a firm at the residents' medical clinic, makes home visits by car and bicycle, volunteers at the Charlottesville Free Clinic (which he helped start 20 years ago) and will participate in a new Free Clinic program for Spanish speaking patients.
He has poetry and short fiction in JAMA, Pharos, J Gen Intern Med, J Med Humanities, Yale J Med Hum, Hektoen International, Pulse, Ars Medica, Nimrod International, Poetry Lore, Rattle, and other literary journals; a chapter book of poems, Chance, in 2006. He was a finalist or semifinalist in writing prizes: J Gen Intern Med 2005, Nimrod 2009; Naugatuck River Review 2010, Streetlight 2015.  He co-directs the Taos Writing Retreat for Health Professionals.
Publications since 2010 related to medical humanities
Kron, F, Fetters M, Scerbo M, et al with Becker DM senior author.  Using a computer simulation for teaching communication skills: a blinded multisite mixed methods randomized controlled trial.  In press at Patient Education and Counseling
Plews-Ogan M, May N, Becker DM.  Tell me a story: teaching residents to find and share their patients' stories.  In review at Medical Encounter.
Ombres R, Montemorano L, Becker DM.  Someone needs to tell the family—why not the resident?   In press, J Pall Med.
Becker D.  Case report: an interesting presentation of an incomplete sentence.  J Gen Intern Med . 2015
Becker D. Free Lunch. J Gen Intern Medicine 2010; 25:1132‐1133.
Becker DM, May N, Plews‐Ogan M. Forgive me: medical error and the poetics of forgiveness. Perspectives in Biology and Medicine Summer 2012;55:339‐49.
Garmon B, Philbrick J, Becker D, Schorling J, Padrick M, Goodman M, Owens J. Mindfulness based stress reduction for chronic pain: a systematic review. J Pain Manage 2014;79(1)
Helenius I, May N, Rainey R. Becker DM. The magic desk – putting the electronic medical record   in its proper place. Abstract: Society of General Internal Medicine 2014.
Becker D.  Introduction to Architecture as Medicine: The University of Florida Shands Cancer Hospital, A Case Study. University of Virginia School of Architecture 2014.
Becker D.  Hurt.  In: George SK, Jung PG (eds). Cultural Ontology of the Self in Pain. New Delhi:Springer 2015:135-138. .
Becker D. Life expectancy. J Gen Intern Medicine 2016.
Becker D. Joint National Commissions Galore.  Rattle. Fall 2015 (science issue)
Becker D. Swimming with John's ghost. Pulse. May 2016.
Becker D. Twilight. JAMA in press
E-Mail: dmb2y@virginia.edu