Slide preparation
Standard tissue sections
Slides prepared by the Research Histology Core and Biorepository and Tissue Research Facility are recommended.
Cleaning dust and fingerprints from slides before scanning is sometimes needed.
Some old (over 20 years) slides have been troublesome because they are thick and variable in thickness.
Adhesive on top of the cover slips (not prepared at UVa) interferes with the image.
Immunohistochemical Staining
The  Biorepository and Tissue Research Facility performs immunohistochemical staining backed by long experience and the expertise of Dr. Chris Moskaluk, a senior pathologist.
Those who plan to perform their own staining should look at the supplier's recommendations for compatible IHC stains and counterstains. Counterstaining requires optimisation, and usually needs to be limited to prevent masking of IHC staining. Very short staining or extensive dilution may be needed.
The examples shown here were prepared by Dr. Joel Pinczewski, Department of Surgery,  and show the effect of counterstaining for too long.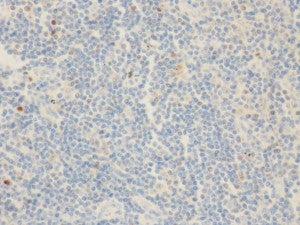 1 minute staining which is adequate for IHC. Click image for larger view.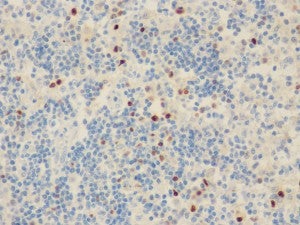 3 minute staining is too dark for weak nuclear IHC. Click image for larger view.