GS-800 Densitometer and ImageQuant software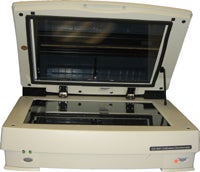 The Bio-Rad GS-800 densitometer and ImageQuant software are in room 1074, Pinn Hall. On request, users will receive the combination to the door lock. After hours access is possible with appropriate permissions on a university identity card.
Sign up using iLab at https://uva.corefacilities.org
New users should contact John Shannon, jds1c@virginia, ph. 434.243.9399 for introductory training on the densitometer.
The Bio-Rad GS-800 densitometer scans X-ray film, gels stained with Coomassie and other visible stains and blots. The instrument software can convert the images to TIFF files for presentation or further analysis.
ImageQuant software from Amersham BioSciences, now GE HealthCare, can analyze images from the densitometer. Currently it is installed only on the computer for the densitometer.