Hours & Location
Hours of Operation
Regular operating hours for the BTRF are 8:30 AM to 8:00 PM Monday through Friday.
Shared equipment (cryostat, LCM, photomicroscopy) is available for use from 9:00 AM to 5:00 PM Monday through Friday, except as noted below.
The BTRF is closed from 1:00 PM to 2:00 PM each Thursday for group meeting. Equipment may not be booked at this time, and specimens will be accepted for processing only with advance notice.
The BTRF follows the University of Virginia Holiday Schedule for the Academic Division (see UVA Human Resources). For academic holidays when UVA Health System Clinics are operating, the BTRF maintains a minimal staffing level to allow routine specimen processing and also tissue procurement in surgical pathology until 5 PM or until scheduled clinic closing, whichever is earlier.
The last sample must be received in the BTRF lab for processing no later than 4:00 PM if FedEx or UPS shipping needs to occur on the same day. Specimens not requiring shipment can be received until 7:00 PM. However, processing complexity may require adjustments to these guidelines and will be discussed with the study team prior to study initiation.

Samples may be accepted after cutoff with sufficient advance notice and subject to staff availability. Additional charges may apply.
Requests for sample processing outside of regular operating hours or on scheduled holidays may be accepted with sufficient advance notice and subject to staff availability. Additional charges will apply.

For tissue samples processed in the Surgical Pathology grossing room, the specimen must be arrive from the operating room no later than 4:30 PM.

We may attempt to procure from samples arriving after this cutoff with sufficient advance notice andsubject to availability of both a BTRF staff member and a qualified Pathologist.
Additional overtime charges will apply for services rendered outside of normal hours of operation.
Location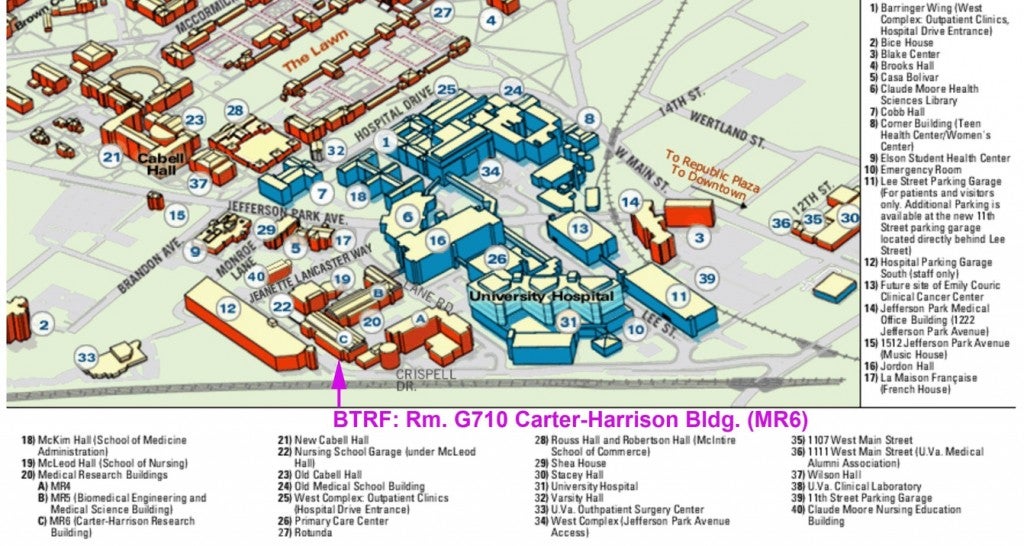 Find the link on the same level as the Medical School Library that takes you from Pinn Hall over Lane Road to the MR5 building. If you have card key access to any of the research areas in MR5, you can use internal hallways on any level in MR5 to pass through to the Carter Harrison Research Building (MR6). If you do not, take the stairs or elevators to the first floor and exit to the sidewalk between MR5 and the Nursing School. Walk past MR5 to the entrance of MR6 (this will be on your left). Once inside MR6, go down to the G level, then enter the hallway that takes you to the research labs.
The lab phone number is 434-982-0488 and the FAX is 434-924-9438.
To have a specimen picked up from the clinics, please page PIC# 1931.