Community Advisory Boards
Southwest Virginia Community Advisory Board
In 2013, the UVA Cancer Center, with the support of key stakeholders from the southwest Virginia region, formed the Cancer Center Without Walls Southwest Virginia Community Advisory Board (CAB). This CAB formed to engage local stakeholders to address cancer disparities and access to care in rural Appalachia.  Since that time, the CAB has grown to include over 30 representatives from the Lenowisco, Cumberland Plateau, and Mount Rogers Health Districts.  The board is made up of cancer survivors, community members, healthcare professionals, and government and nonprofit organizations.  Together, the board is committed to eliminating cancer in Southwest Virginia. In 2018, Jamie Zoellner, UVA Professor of Public Health Sciences, collaborated with the Southwest Virginia CAB and was awarded a PCORI Engagement Awards Contract. With this funding, the goal is to build and strengthen the research capacity among members of two Community Action Teams — Cancer Prevention and Cancer Early Detection — through relevant PCOR skill-based trainings.
Upcoming Events
Community Spotlight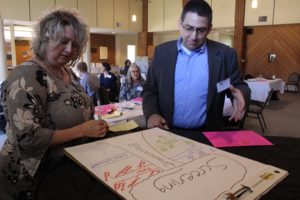 Scott Schriefer joined the CAB in 2017 after attending an informational meeting organized by CCWW co-chair Howard Chapman, to encourage involvement of the faith-based groups in Smyth County.  Scott is retired from health care administration, served as Pastor of Saltville Baptist Church, and he currently has a ministry in nursing homes.
Early in 2017, Scott's wife passed due to pancreatic cancer.  Because of this experience, Scott realized that he could contribute to the need to address the cancer disparities in the region.  As a pastor, Scott could share his story to help open the door for discussions about educating others in cancer prevention and early detection.  When Scott was at Saltville Baptist Church, he was instrumental is hosting an information session on UVA's community education program, Understanding Cancer.  When a collaborative program by UVA Cancer Center and the Saltville Medical Clinic in smoking cessation began, Scott was able to share this and other cancer related resources with his congregation.  By sharing this health information to the faith-based community, Scott feels this helps reinforce and build better cancer information awareness.
Scott credits board member Dr. Jerry Miller with helping him see that he has a role to play and that he can inspire other community members to participate in CCWW meetings and research projects.  Scott states that as you move from passion to compassion, we can share success stories and move forward to have three or four areas to target areas that will have a positive impact for prevention and early detection of cancer Southwest Virginia.
Our Meeting Highlights
Meeting Documents