Clinical Trials
What are Clinical Trials?
Learn More
Click below to read about current UVA Cancer Clinical Trials.
Click here
Cancer Clinical Trials are research studies involving people.  They help researchers find new ways to prevent, diagnose and treat cancer.  There have been many advances in science from clinical trials.  These advances are made possible because of people's willingness to participate in clinical trials.
The UVA Cancer Center is involved in approximately ___ clinical trials at a given time. In addition to clinical trials focused on treatment, the UVA Cancer Center offers access to clinical trials studying ways to prevent and detect cancer early.
The American Cancer Society (ACS) and National Institutes of Health (NIH) provide further information on Clinical Trials. Visit the Resources page to learn more.
Chatting about Cancer Clinical Trials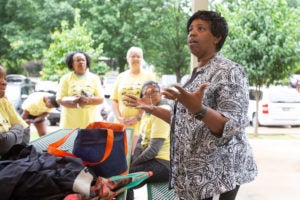 We spoke with Peggy Scott, Recruitment & Outreach Specialist for Clinical Trials, about her role at UVA and the importance of clinical trials.
What question are you asked most often about clinical trials?
I am asked what the benefit will be for participating in a cancer clinical trial, and I explain that volunteering to participate on a trial means that you or someone in the future may gain benefit. A clinical trial offers access to the newest drugs and treatment well before they are available to the mainstream population.
Why are clinical trials important?
Clinical Trials are vitally important as they help discover newer more effective treatments as well as diagnosing new diseases. They help research teams figure out what works to treat disease and what does not.
How can a patient find out if they qualify for a cancer clinical trial?
If you are interested in knowing if you qualify for a cancer clinical trial reach out to myself or to your Doctor or Nurse and they will guide you. You can also utilize websites such as UVA's Cancer Clinical Trials database.
Will I have to pay for being on a clinical trial?
Clinical trials are not free but, in most instances the sponsor of the research pay for parts of treatments. If you have insurance, it is expected that your insurance will cover the standard of care part of treatment.
Clinical Trial Highlight
Title of study: Biomedical Research in Pancreatic and Hepatobiliary Cancer
Type of cancer addressed: Gastrointestinal
Lead Researcher: Todd W. Bauer
Status of study: Open to accrual/Currently recruiting
Description of study: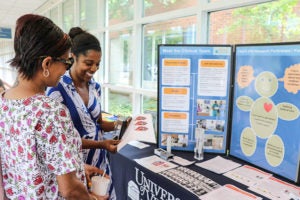 Available Cancer Clinical Trials
Browse through current UVA cancer clinical trials by visiting the Cancer (Oncology) Clinical Trials page or search for clinical studies conducted around the world by visiting ClinicalTrials.gov . The UVA clinical trials available cover these cancer types:
Breast Oncology
Gastrointestinal Oncology
Genitourinary Oncology
Gynecologic Oncology
Head & Neck Oncology
Hematologic Malignancies
Melanoma
Neuro-Oncology
Other Oncology Trials
Pediatric Oncology
Thoracic Oncology
Transplant
Debunking Clinical Trial Myths
Myth: Clinical trial volunteers are merely human guinea pigs.
Fact: There are very stringent institutional and governmental guidelines regarding humans participating on clinical trials that dictates fair and ethical treatment.
Myth: Clinical trials are dangerous because they use new practices and medicines.
Fact: Though clinical trials pose some risk, safety is of the highest priority, The drugs have already gone through testing to support that the drug is likely safe and participants are monitored extremely close by the research team supporting you.
Myth: Once I decide to participate in a clinical trial, I will not be able to change my mind.
Fact: When you decide to participate on a clinical trial, you are made aware that at any point and time you have the option to decide to stop the trial.
Myth: Cancer clinical research studies are for people who have no other options.
Fact: Clinical trials can be preventative, diagnostic or as a first line of care. However, there are times when a clinical trial is offered when there are no longer standards of care that are working for a specific patient.