Colorectal Cancer Screening
Screening Questions?
Learn more about a colorectal screening options and more at UVA Health
Learn More
One in 20 Americans is at risk of developing colon cancer and more than half of colon cancer deaths are preventable.  At UVA we are committed to the National Colorectal Cancer Round Table's goal of 80% of adults aged 50 and older in every community being regularly screened for colorectal cancer.  Our shared efforts include working with community health clinics, advocating for better access and coverage to screening, and connecting stakeholders from across the Commonwealth beyond to get screening rates above 80%.
Community Screening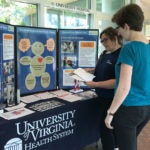 Through a generous grant from the Virginia Tobacco Region Revitalization Commission, we are able to increase access to colorectal screening in Southwest and Southside Virginia. In partnership with the Health Wagon, Central Virginia Health Services (CVHS), Ballad Health, and UVA Digestive Health the UVA Cancer Center will be providing free FIT screenings for patients who qualify at Health Wagon and CVHS.  Positive FIT tests will be navigated for follow up to a local provider who will perform a free colonoscopy.
UVA Employee Screening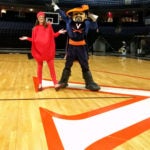 We are dedicated to improving the health of our own employees.  We believe that the health of our employees impacts the quality of our patient care.  We have worked seamlessly to encourage our employees to get timely screenings.
FLU FIT- offered FIT screening to employees during annual onsite flu shot clinic. In 2018, 23 FITs were distributed and were 15 resulted and negative. Several others who were not eligible for FIT were navigated to colonoscopy.
In fall of 2018, a service line contest was held between UVA Digestive Health and UVA Cancer Center. Participants reviewed screening criteria for colorectal cancer and signed a pledge to get screened.  Over 230 employees participated and 18 people were screened.
Our employee wellness program, Be Well, trained their coaches on CRC screening recommendations and now offer FIT testing asp art of the BeWell program.
Colorectal Cancer Awareness and Education
Screen To Save
Screen to Save is a National Cancer Institute initiative aimed at increasing colorectal cancer screening rates among men and women age 50 and older from racially and ethnically diverse communities in rural areas.  The UVA Screen to Save program offers culturally-tailored, evidence-based colorectal cancer information delivered by our outreach specialist.
Dress in Blue Day
Annually on March 1st, UVA takes part in Dress in Blue Day to raise awareness for colorectal cancer.  By wearing blue we help raise awareness for colorectal cancer as well as honor those who have been impacted by the disease.  Our Dress in Blue activities happened in Charlottesville, Danville, and Wise Virginia and had over 100 participants.  Additionally, we partnered with the Cancer Action Coalition of Virginia to do a social media campaign and contest.  More than 75 people participated from across the state in our social media challenge.
Add slideshow of Dress In Blue Day
Guts and Butts
Guts and Butts was held on March 10, 2019 at the Danville YMCA in collaboration with the UVA Cancer Center, VCU Massey Cancer Center and Hitting Cancer Below the Belt. The event aimed to increase awareness and intentions around colorectal cancer screening in the Danville community. To achieve this, local community based organizations set up booths to cover specific colorectal cancer risk reduction topics including nutrition, physical activity, screening options, and insurance coverage. Participants were encouraged to visit all booths, complete a passport of completion, and complete a pre post survey on the event.