Understanding Cancer
Contact us to organize an Understanding Cancer training in your community.
Click to Email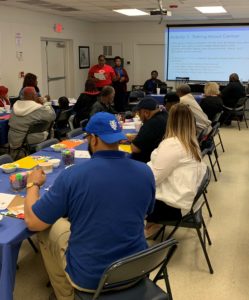 Understanding Cancer is an educational curriculum focused on informing community members about the cancer disease. Understanding Cancer provides an introduction to cancer by addressing topics on the disease.
Understanding cancer workshops are designed to be presented to either large or small groups of people in a half day training. Attendees will take part in interactive activities related to the six chapters of the Understanding Curriculum.
Participants also receive a copy of the Understanding Cancer guidebook which includes the six chapters, a toolkit with key cancer-related terms, information on national resources and a one page informational sheet on typical cancer facts and myths.
Contact us to organize an Understanding Cancer training in your community.
Click to Email
Goal of Curriculum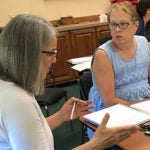 This curriculum's goal is to inform, empower, and engage patients, cancer survivors, caregivers, and friends or family members on topics relating to cancer. After completing this cancer education training, participants will be able to discuss ways to reduce cancer risk, know recommended cancer screening exams and screening guidelines, and can identify where to access both local and national resources to learn more.
Understanding Cancer Facilitators
Understanding Cancer facilitators are individuals familiar with the content in the guidebook and have attended a specialized training that explains how to coordinate and present the guidebook to individuals in their communities. These facilitators reach out to local civic groups, churches, health departments, healthy lifestyle organizations, etc. to gauge their interest in holding an Understanding Cancer workshop. Each facilitator has a Facilitator Guide that is used to deliver these workshops. The Facilitator Guide provides pre-created PowerPoint presentation to lead the workshop, tips on managing the discussion parts of the curriculum,and further details on how to productively include activities throughout the workshop.
If you are interested in becoming a facilitator in your community please contact us.
History
The Cancer 101: A Cancer Education and Training Program for American Indian and Alaska Natives was the original inspiration for developing a community-based cancer curriculum. Due to the success of Cancer 101, members from the Appalachia Community Cancer Network's (ACCN) created a curriculum called Understanding Cancer Guidebook and Study Sheets that was funded by the National Cancer Institute and focused on populations in the Appalachian region. The Understanding Cancer 2nd Edition curriculum includes extended and updated content as well as new activities and resources for all to reference.