Spring 1999 Conference
Terrorist Threat to American Presence Abroad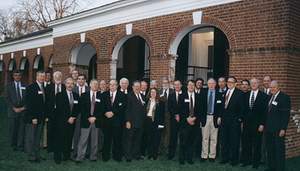 Description
University of Virginia
Charlottesville, VA
April 12 to April 13, 1999
This conference examined the al Qaeda bombings of the U.S. Embassies in Kenya and Tanzania that had occurred the previous year. In the 1998 U.S. Embassy Bombings (August 7, 1998), hundreds of people were killed in simultaneous car bomb explosions at the United States embassies in the East African capital cities of Dar es Salaam, Tanzania and Nairobi, Kenya. The attacks, linked to local members of the al Qaeda terrorist network headed by Osama bin Laden, brought bin Laden and al Qaeda to significant international attention for the first time, resulting in the U.S. Federal Bureau of Investigation placement of bin Laden on its Ten Most Wanted list.
Along with the 1993 World Trade Center bombing, the 1996 Khobar Towers bombing in Saudi Arabia, and the Yemen-based 2000 attack on the USS Cole, the Embassy Bombing is one of the major anti-American terrorist attacks preceding the September 11, 2001 terrorist attacks.
Highlights
Distinguished Guests
Michael Barkun – is professor of political science in the Maxwell School at Syracuse University. His recent publications include Religion and the Racist Right: The Origins of the Christian Identity Movement (winner of the Myers Center Award), Project Megiddo, the FBI, and the Academic Community, and Defending Against the Apocalypse: The Limits of Homeland Security. His latest book—A Culture of Conspiracy: Apocalyptic Visions in Contemporary America—will be published this fall by the University of California Press. He was a coauthor of the CIAG monograph on community shielding, What Is To Be Done? Emerging Perspectives on Public Responses to Bioterrorism. He serves on editorial boards for Terrorism and Political Violence, Communal Societies, and Nova Religio, and is the editor of Syracuse University Press's Religion and Politics series.
Edward L. Rowny – served as Special Advisor for Arms Control to Presidents Reagan and Bush. Rowny served in the Army in Africa, Europe and Asia. During World War II he served in Liberia and fought in Italy. In the Korean conflict, he was a planner of the Inchon invasion and was official spokesman for General Douglas MacArthur. From 1973 to 1979 Rowny was the Joint Chiefs of Staff Representative to the Strategic Arms Limitation Talks (SALT II) in Geneva. He served longer than any other U.S. delegate—6 ½ years—and negotiated for more than 1,000 hours. General Rowny retired from the Army in 1979. From 1981-84, Rowny served as chief negotiator Strategic Arms Reduction Talks (START) with the rank of ambassador. As head of START, he negotiated an additional 1,000 hours. From 1985-1990, he was Special Advisor for Arms Control to Presidents Reagan and Bush.
Images
Steve Romano and Michael Barkun
Alan Sapp, Ambassador Howell, Tim White, Frank McDonnell