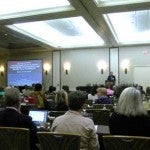 CHARLOTTESVILLE, Va (WVIR) – Mar. 23, 2016
Doctors, community leaders, and healthcare providers are joining forces to improve the overall health of people all across Virginia. The second annual Population Health Summit of Virginia was held at the Omni Hotel in Charlottesville Wednesday.
The goal of the two day summit is to look at factors that affect our health and then work on improving the population's overall wellness.
Representatives from various medical institutions along with federal and state leaders are coming together for a two day population health summit. Population health is defined as improving the overall health of an entire population.
"It's basically taking care of not only the people who are in front of you today, but the people who are out in the community," said Dr. Dan McCarter of the University of Virginia Family Medicine.
Experts seek to take care of the community mainly through accountable care organizations, or ACOs, which consist of health providers that join forces to provide high quality care to patients.
"It may be physicians, it may be hospitals, it may be nursing homes who then work together," stated McCarter.
Many factors go into assessing wellness. Virginia's Secretary of Health and Human Resources says one's environment can have a huge impact on health.
"Kids that are exposed to things like domestic violence and homelessness and substance abuse in the household not only will have cardiovascular disease early on in life but they will develop diabetes earlier in life," said Bill Hazel, secretary of Health and Human Resources for the commonwealth of Virginia.
Governmental agencies are also working on issues related to early childhood development and at risk youth to better analyze health.