Calendar
Oct
5
Thu
2023
SWVA Community Advisory Board Quarterly Meeting
Oct 5 @ 12:00 pm – 1:30 pm
The next quarterly SWVA CAB Meeting is Thursday, October 5th, noon-1:30 pm via Zoom.
This meeting will be virtual and include subcommittee breakout sessions.
Please RVSP and remember to add the date to your calendar
Click here to RSVP.
Add Meeting to Calendar
Agenda
Oct
14
Sat
2023
Latinx Health Fair- Breast Cancer Screening Event with UVA Mobile Mammography Coach

@ Abermarle High School
Oct 14 @ 12:00 pm – 4:00 pm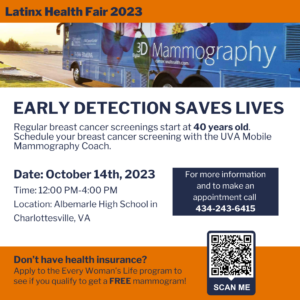 Mark Your Calendar: October 14, 2023, is Your Breast Cancer Screening Day!
Schedule your breast screening today. Call 434-243-6415.
No insurance? Find out if you qualify for a FREE mammogram through the Every Woman's Life Program:
https://bit.ly/3ECmaSN
———–
Marque su calendario: ¡el 14 de octubre de 2023 es su día para hacerse su examen de detección para el cáncer de mama!
El Autobus de Mamografía de UVA estará en Albemarle High School ubicado en Charlottesville entre el mediodía y las 4 PM como parte de la Feria de Salud Latina organizada por La Iniciativa de Salud Latina.
Programe su examen de detección para el cáncer de mama hoy. Llame al 434-243-6415.
¿No tiene seguro médico? Descubra si califica para una mamografía GRATUITA a través del Programa Every Woman's Life:
https://bit.ly/45JyAUP