MolMart instructions illustrated
You must know your iLab login and password to use self-service in MolMart.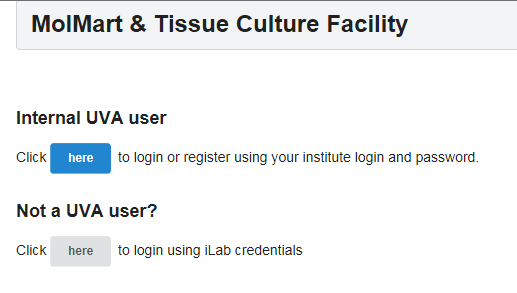 Normally the computer should show a screen which leads to a log in for iLab. If not, click the home icon in the browser.
After log in, you should be at a self service kiosk. If you are trapped in a circle of a page telling you to login leading to a page which briefly flashes login and password boxes before returning you to the previous page, restart the browser or start a different browser.
Click Create a new order
You may need to select the lab you are ordering for.
Then use a scanner to scan the bar code of your item, or enter the catalog item with the keyboard in the box under Add Products


If there is a beep but nothing shows on screen, click within the enter or scan barcode box.
If there is no bar code, or it does not scan, you can manually enter the catalog number.
You may need to press enter after scanning a code or entering it from a keyboard.
You can also click the blue search to add products box if you do not have a barcode or catalog number. IF you find the item, click the green + button 

   and Add these products. if the search does not find what you are looking for, probably the word you are looking for is not in the item's current description.
Note the option for many items (shown in screen shot above); if you select it, scan one item and then enter the number you are buying (Please enter quantity).
Currently iLab does not take orders by case; enter the catalog number/bar code for one item, then the number in a case.
Click pick and you should see your item listed on your order.


If you have an item on your list that you do not want, click the red X on the right under Actions, and then the Okay box  that appears.
When you have entered all items, click Set Payment info and select PTAEO to use. If you cannot see the desired PTAEO, see PTAEO in iLab MolMart cannot give you access to PTAEO, your lab or department must do this; MolMart cannot enter a PTAO.
When finished, log out of iLab.