Patient Care Services
Family Dentistry
The University of Virginia Health System, Department of Dentistry, provides family dental care at the 1222 Jefferson Park Avenue Facility-second floor. Preventive care, periodontics, restorations, obturators, crowns and bridges, endodontics, implants, oral surgery and cosmetic dentistry are available. Faculty and residents also treat special needs patients with systemic disorders and developmental disabilities that require care in the hospital setting.
Dental treatment under general anesthesia in the operating room is available. The Department of Dentistry provides a consultation service for referring health care providers and emergency care through the Medical Center Emergency Department.
Special Care
Comprehensive dental care is available to a patient under the classification of special care or medically necessary dental care. The Federation of Special Care Organization in Dentistry defines special care as:
Provision of quality patient care at the interface of medicine and dentistry, involving principally the care of patients, who for reasons of medical diagnoses, handicaps or age require special care or special settings.
These patients present with particular medical, dental or social service considerations which make treatment within the Department of Dentistry a priority. The majority of special care patients have medical considerations such as head and neck malignancies, coagulopathies, immunosuppression or mental illness. Many of these individuals originally presented via the Dentistry Consultation Service for the purpose of treatment for oral sources of infection prior to medical care.
Children's Specialty Services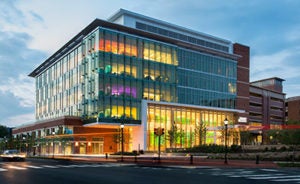 The Department of Dentistry provides services for pediatric patients at the Children's Medical Center at the Battle Building.  Patients are referred to the Children's Medical Center for dental evaluation and treatment from clinicians within the Medical Center and the greater community. The Pediatric Dentistry consult service is intended for significant handicapped and/or medically compromised pediatric patients being managed by UVA Physicians and Clinics, particularly where dental issues impact the medical therapies.   For non-handicapped/non medically compromised pediatric patients seeking comprehensive care or establishment of care it is requested  that you call 434-924-1774 to make an appointment.  While Dentistry is a limited access clinic, we will attempt to accommodate such patients as available space allows.
The most common medical diagnoses of our patients are autism, intellectual and developmental disabilities, ADAD, cerebral palsy, muscular dystrophy/neuromuscular disorders, spina bifida/myelomeningocele, trisomy 21, and medical complexity. Dental services are provided by attending faculty, residents and registered dental hygienists. Many of our patients cannot be treated elsewhere due to the physical limitations of their handicapping condition or medical indigence. The services provided at the Children's Medical Center include:
Screening of all inpatients
Preventive and hygiene services
Restorative care
Prosthetic and adaptive appliances
Consultation and referral for complex oral surgery, comprehensive orthodontics, and treatment under general anesthesia
The Children's Medical Center is also a training site for the UVA General Practice Dental Residency. Residents learn patient management skills and technical procedures to enable them to care for handicapped children in their dental practices. Externs from regional schools of dentistry and schools of dental hygiene have the opportunity to rotate through the Children's Medical Center dental service and in so doing gain an appreciation of special care dental services.
The Department of Dentistry currently provides the services of an orthodontist to the Craniofacial Clinic with Plastic & Maxillofacial Surgery. Dental care is part of the comprehensive treatment plan for this patient population. Follow-up dental care generally accomplished through the Children's Rehabilitation Center and may consist of:
Routine hygiene and restorative procedures in preparation for orthodontic and surgical treatment.
Feeding obturators and orthopedic appliances for infants.
Post-orthodontic prosthodontics.
The University of Virginia Health System Department of Dentistry is a referral source for routine care of these patients because:
Cleft lip/cleft palate and other facial deformities are often difficult to anesthetize in the oral regions of their defects, and teeth adjacent to these areas are frequently congenitally malformed and secondarily decayed.
Cleft lip/cleft palate and other facial deformities patients frequently present as behavior management problems owing to the above and general anxieties associated with health care personnel borne from previous surgeries. Many require sedation or general anesthesia to accomplish their dental treatment, the availability of which is limited in the Southwestern area of Virginia, particularly among indigent populations.
Cleft lip/cleft palate patients generally possess associated malocclusions which require orthodontic and oral surgery support integrated with routine dental care.
Urgent Care
Faculty and residents of the Department of Dentistry provide on-call consultation to the Department of Emergency Medicine for the care of patients with oral infection and dentoalveolar trauma.
Tumor Board
The Department of Dentistry participates in the Head and Neck Cancer Tumor Board. This involvement in the care of head and neck patients with head and neck malignancies consists of pre-treatment evaluation to ascertain complication and risk, to educate patients about risk from tumor therapy, and to provide appropriate dental care and/or rehabilitation of tumor resected patients. Interim care has also consisted of treatment for stomatitis, mucositis, difficulty with deglutition or speech and appropriate diet instruction. Post-operative care consists of regular follow-up and necessary treatment including preventive care, restorative care, and rehabilitation with a prosthesis and/or mandibular guidance appliances to ensure appropriate function and aesthetics.
Facial Pain & Temporomandibular Disorders Clinic
Despite great advances in the fields of medicine and dentistry, temporomandibular joint disorders remain an area of confusion for patients and practitioners. Many chronic facial pains can be attributed to abnormalities within the TM joint or the muscles of mastication. Some problems are neurogenic, psychogenic or the result of pain referral. The diagnostic challenge that chronic pain patients present has often resulted in the patient seeking care by many different specialties over extended periods of time. Unfortunately, desperate patients are often subjected to unscientific treatments in hope of getting some resolution of their symptoms.
The University of Virginia Health System offers multi-disciplinary diagnosis and treatment for facial pain/TMD patients. We utilize accepted conservative modalities and procedures. We offer the latest in diagnostic and therapeutic techniques, including appliance therapy, physical therapy, and biofeedback training.
Hemophilia Clinic
The Hemophilia Clinic is a coordinated effort with the Pediatric and Adult Oncology Hematology service.  Patients are currently on maintenance recall dental status. Treatment often consists of a recall exam, prophy, fluoride treatment restoration of carious teeth. Additionally, we staff the Wise County Satellite hemophiliac clinic once a year. We are also available for consultation for any of the hematology patients.