Rita Basu, MD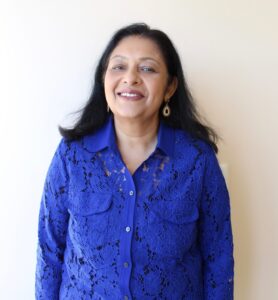 Professor, Department of Medicine
Dr. Rita Basu, MD., is a tenured Professor in the Division of Endocrinology, department of Medicine at the University of Virginia. She received her medical degree from Jawaharlal Institute of Post Graduate Medical Education and Research (JIPMER) in Pondicherry, India in 1988. In 1996, she joined the Mayo Clinic in Rochester, MN as a trainee investigator in integrative physiology of Diabetes and other metabolic disorders in the laboratory of Dr. Robert Rizza. Following completion of her fellowship in 1999 she continued her career in understanding the pathophysiology and mechanisms of insulin resistance in humans with metabolic disorders and rapidly rose through the ranks to a full Professor in the Division of Endocrinology at the Mayo Clinic in 2012. She was recently recruited to the UVA faculty as part of a strategic initiative to develop Translational research for diabetes at UVA School of Medicine and Center for Diabetes Technology.
Dr. Basu is currently the Principal Investigator on projects that are both NIH and Industry funded. These include: 1) NIDDK-R01-029953 that probes the mechanisms of hepatic and peripheral insulin resistance in humans with type 2 diabetes and pre-diabetes. Using state of the art isotope dilution methods coupled with organ catheterization (splanchnic and leg balance) that she helped develop and validate (e.g., triple tracer techniques for estimation of glucose and cortisol turnover in humans), critical insights into the mechanisms of organ and system-specific dysfunctions that lead to insulin resistance have been delineated; 2) Investigator initiated industry sponsored clinical trial of a novel therapy for patients with Non-Alcoholic Steatohepatitis (NASH/NAFLD) that targets hepatic fat and secondarily improves hepatic insulin action; iii) Industry sponsored Phase III study to understand the effects of a faster acting insulin analog on glucose turnover in type 1 diabetes; iv) Industry sponsored study to determine the physiology of glucose sensing in the intra-peritoneal space in humans and type 1 diabetes.
Dr. Basu is also a co-investigator in NIH sponsored projects with Dr. Ananda Basu MD as the Principal Investigator. She also collaborates extensively with investigators outside of UVA at prestigious institutions such as Harvard Medical School, Joslin Diabetes Center, UTHSCSA, Mayo Clinic amongst others.
Dr. Basu has had a long and productive career as an expert in the Ethics of Research and Human subject protection having served on the Institutional Review Board as the Associate Medical Director for 3 years and also a Chair of the IRB for over a decade at Mayo Clinic. She was a champion for process improvement and accreditation of the Mayo IRB by AAHRP (The Association for the Accreditation of Human Research Protection Programs: as the "gold seal," AAHRPP accreditation offers assurances—to research participants, researchers, sponsors, government regulators, and the general public—that an HRPP is focused first and foremost on excellence") a necessary step towards creation of a IRB devoted to quality and ethical research. She was also a key player in streamlining numerous IRB related processes including a rigorous scientific peer review system that ensured sound science in addition to ethics.
At UVA, she plans to further develop state of the art physiology and interventional research to better phenotype people with type 2 diabetes and pre-diabetes such that therapy to treat these disorders could be more precise and personalized, targeting the specific physiological abnormalities in a person-specific manner to match the national and NIDDK call for 'Precision Medicine' initiative.
Dr. Basu has authored > 150 peer-review publications in major journals including the New England Journal of Medicine, Journal of Clinical Investigation and Diabetes. She is on the editorial board of American Journal of Physiology and an Associate editor of the Diabetes Technology and Therapeutics journal. She serves as reviewer on numerous scientific associations and journals. She has served as a permanent member of the CIDO study section of the National Institute of Health and continues to serve on NIH and International review panels and DSMB's. She has actively participated as a WHO fellow and Co-Director in a WHO collaborating center initiated 5-year international program that provided advanced training and education to several hundred promising diabetologists in China and Europe.
She continues her commitment to excellence in diabetes training, education and research in her current position at UVA.
Expertise: Integrative physiology and translational research, ethical conduct of research, federal regulations guiding research and diabetes training and education