Habitat for Humanity
Support for Habitat
In 2012, the UVA Department of Medicine pledged $60,000 to Greater Charlottesville Habitat for Humanity in support of a home for the Ayite family in the Sunrise neighborhood — the nation's first trailer park transformation without resident displacement. Through the efforts and generosity of Department of Medicine staff, faculty and trainees, more than $58k was raised, and the Ayites have settled into their new home. Since then, DOM has continued to organize volunteer teams to serve with Habitat builds.
During the 2014 and 2015, DOM continued its tradition of holding volunteer work days for Greater Charlottesville Region Habitat for Humanity. The DOM work crews spackled and painted, hung dry wall, and performed a variety of other tasks to help complete the homes of Charlottesville Habitat partner families. Most of these were located in Burnet Commons in habitat-jul-2015-croppedBelmont, a mixed income development that is a collaborative effort of Southern Development, the City of Charlottesville, and Habitat. "It will transform a long-time City dumping ground into a pedestrian-oriented, sustainably built 46-unit neighborhood in the heart of Charlottesville," according to Habitat.
We encourage your continued support of Habitat for Humanity of Greater Charlottesville — through your financial contributions and donation of volunteer time. To learn more, visit Habitat's website.
Donate online, please be sure to write "DOM" in the special instructions field.
Or you can mail a check:
Make it payable to HFHGC, and please write "DOM" on the memo line.
Habitat for Humanity of Greater Charlottesville (HFHGC)
919 W. Main Street
Charlottesville, VA 22903
Thank you!


Online
The easiest way to participate in a DOM build event is to register online. This way, you can see, sign up for, and cancel your registration for events whenever it's convenient for you according to your own schedule.
Go to https://cvillehabitat.volunteerhub.com/
Click on Sign In in the upper right hand corner to create a new user account.
When prompted for a join code, click Next, then choose your DOM Division from the list and follow instructions to complete the creation of your user account.
Return to the Events page, click on your desired build date link, scroll down to Sign Up button, and follow instructions to complete your registration.
After you sign up for an event online you will automatically receive a confirmation email with additional details such as the exact location, what to bring, what to wear, etc.
Contact Habitat for Humanity Volunteer Manager, Garrett Trent, with any questions regarding the online signup system at volunteer@cvillehabitat.org or call 434-293-9066, ext 200.
dom worker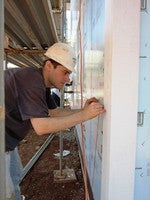 Phone or Email
If you prefer, you can always sign up personally by contacting Habitat for Humanity Volunteer Manager, Garrett Trent, by phone or email. Please reference "DOM Build" in any messages.
Email: volunteer@cvillehabitat.org
Phone: 434-293-9066 ext. 200
Garrett will manually add you to the list of expected builders and make sure you have all the details you need such as the address, what to wear, what to bring, etc.
Note
The construction team works very hard to plan tasks appropriate for the group size in advance, which ensures that we can make good use of volunteer time and also allows us to recruit enough crew leaders to safely handle the number of people on site. For this reason, registration closes 3 days prior to Tuesday and Saturday builds, and 1 day prior to other weekday builds.
FAQs
Thanks for signing up to build for Habitat. We look forward to seeing you on site! Please see below for important logistical information. Feel free to contact Garrett Trent, the Volunteer Manager, at any time with questions or concerns.
Office: (434)-293-9066 | Mobile: (434)-251-6855 | volunteer@cvillehabitat.org
What specifically will I be doing?
Our construction schedule varies depending on weather conditions and the unpredictable pace of building with a volunteer labor force. It's often difficult to let you know in advance the type of work you'll be doing. Whether framing, drywall, painting, siding, finish work, site cleanup or landscaping, every task contributes to getting our Partner Families into simple, decent affordable housing.
Where is the jobsite?
Habitat is building in various locations around Charlottesville. Locations and directions to the job site will be given the week of the volunteer day you have signed up for.
What should I bring to the job site?
All tools and safety equipment will be provided, though you are welcome to bring your own hand tools if you wish (make sure to label clearly!). Water will be provided, but please bring a reusable bottle if you have one. Don't forget to pack a lunch! Habitat can not be responsible for your personal property so leave any valuables at home and consider leaving your cell phone in the car.
What should I wear to the job site?
Closed toe shoes are required! Boots are recommended, but any thick sole shoe will do. Consider leaving your jewelry at home and wearing glasses instead of contact lenses for additional safety. Pull back long hair and choose clothing that is comfortable, but not too loose that it will easily catch on things. Barring extreme weather, we usually work rain or shine, so please bring a waterproof outer layer. In the summer, we suggest wearing long pants and sleeved shirts to protect from scrapes, scratches, and sunburns. Insect repellent, sunblock, sunglasses and a hat are also good ideas. In colder weather, be sure to dress in layers, prepared for both indoor and outdoor work.
What should I do when I arrive?
When you arrive, you will be asked to sign in, provide emergency contact information, and make yourself a name tag. If you haven't completed it in advance online, you will also be asked to complete a liability waiver. Once volunteers are signed in, we will give a brief orientation about the project and then introduce you to the construction staff who will break you into groups to accomplish the various tasks scheduled for the day.
What happens if there's bad weather?
With the exception of severe weather, we usually work rain or shine. Safety is always our first concern. If you are volunteering as part of a group, the Volunteer Manager will be in communication with your group's point person with updates. Individuals and others in doubt can always consult our website (www.cvillehabitat.org) or call our office (434-293-9066) for recorded cancellation information, updated at least an hour prior to start time.