How to Volunteer


Online
The easiest way to participate in a DOM build event is to register online. This way, you can see, sign up for, and cancel your registration for events whenever it's convenient for you according to your own schedule.
Go to https://cvillehabitat.volunteerhub.com/
Click on Sign In in the upper right hand corner to create a new user account.
When prompted for a join code, click Next, then choose your DOM Division from the list and follow instructions to complete the creation of your user account.
Return to the Events page, click on your desired build date link, scroll down to Sign Up button, and follow instructions to complete your registration.
After you sign up for an event online you will automatically receive a confirmation email with additional details such as the exact location, what to bring, what to wear, etc.
Contact Habitat for Humanity Volunteer Manager, Garrett Trent, with any questions regarding the online signup system at volunteer@cvillehabitat.org or call 434-293-9066, ext 200.
dom worker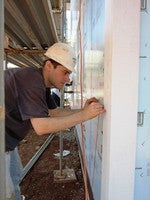 Phone or Email
If you prefer, you can always sign up personally by contacting Habitat for Humanity Volunteer Manager, Garrett Trent, by phone or email. Please reference "DOM Build" in any messages.
Email: volunteer@cvillehabitat.org
Phone: 434-293-9066 ext. 200
Garrett will manually add you to the list of expected builders and make sure you have all the details you need such as the address, what to wear, what to bring, etc.
Note
The construction team works very hard to plan tasks appropriate for the group size in advance, which ensures that we can make good use of volunteer time and also allows us to recruit enough crew leaders to safely handle the number of people on site. For this reason, registration closes 3 days prior to Tuesday and Saturday builds, and 1 day prior to other weekday builds.