Overview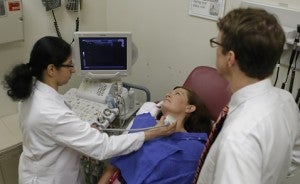 DOM Fellowship Programs:
Overview
The goal of subspecialty training at the UVA Department of Medicine is to provide fellows with the tools to be successful clinicians, researchers and teachers and excel in their chosen professional setting, whether academic medicine or private practice. Upon program completion, Department of Medicine trainees are expected to represent the best in clinical acumen, patient care, research initiative, and professionalism.
The Department of Medicine oversees all its subspecialty fellowship programs to ensure compliance with the requirements of the Accreditation Council of Graduate Medical Education (ACGME) and the American Board of Internal Medicine (ABIM), and with UVA School of Medicine's Graduate Medical Education Committee.
The diverse patient population seen at UVA Medical Center contributes to the challenging clinical experiences here. An outstanding faculty dedicated to teaching, along with sophisticated research facilities, NIH training grant opportunities, and individually tailored academic pathways, make the fellowship experience at UVA professionally exciting and personally rewarding.
For information about a specific subspecialty training program, please contact the fellowship director or coordinator for the program of interest.
Orientation
Each year, following the general Graduate Medical Education orientation, the Department of Medicine hosts a gathering for its incoming fellows, who attend with their program coordinators. This provides an opportunity to:
Meet colleagues and program directors in one's own and associated subspecialties
Learn about the Department of Medicine and its administrative structure
Receive information pertinent to special interests.
Fellowship Focus
The "Fellowship Focus" lecture series provides information and guidance on a variety of issues, and fulfills specific ACGME requirements. Topics covered include:
Negotiating contracts
Career development
Physician well-being
Medical malpractice updates.