Workshop Goals and Objectives
Workshop Goals and Objectives
Your attendance at ALL workshops is mandatory. You will be graded based on your punctuality, preparation, and participation.
Please note that you can find all of the power point workshop presentations that need to be printed by accessing the Learning Materials tab.
---
Goals & Objectives for Geriatric Clerkship Workshops
Delirium & Dementia
At the end of this workshop, participants will be able to:
Define, classify, and understand potential etiologies for delirium
Understand the epidemiology and prognosis of patients with delirium
Develop a differential diagnosis for patients suspected of delirium
Conduct an appropriate history, physical examination and laboratory investigation for a patient with suspected delirium
Develop an appropriate treatment plan for evaluation and management of patients diagnosed with delirium
Physical Diagnosis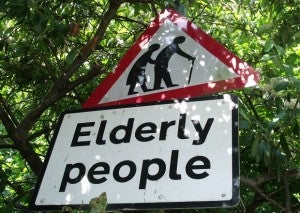 At the end of this workshop, participants will be able to:
to review specific techniques of the physical examination of the older adult applicable in the clinic, home, and long-term care setting
to learn a perceptive approach to information gathering and communication
to practice examination techniques such as the detailed evaluation of the jugular venous pulse
Fifity Minute Geriatric Fellowship
At the end of this workshop, participants will be able to:
Understand how to tell the difference between normal aging and disease in an elderly patient.
Know the symptoms which commonly reflect illness in the elderly.
Be aware of atypical presentations of disease in the elderly.
Falls: A Geriatric Syndrome
At the end of this workshop, participants will be able to:
Appreciate the relationship between falls, morbidity, and loss of function in the elderly
Describe the basic components of a comprehensive fall evaluation
Identify fall risk factors
Administer a "Timed Get Up and Go" Test
Demonstrate the proper use of various assistive walking devices
Describe the basic components of a home safety evaluation
Be a Geriatric Patient: Pharmacology and the Physiology of Aging
At the end of this workshop, participants will be able to:
Explain how normal physiologic changes of aging affect drug metabolism
Calculate the creatinine clearance in an elderly patient and dose renally cleared medications accordingly
Identify inappropriate polypharmacy
List barriers to medication compliance in the elderly and describe strategies to increase compliance
Appreciate the importance of frequent comprehensive medication reconciliation in reducing morbidity in the elderly
Ethical Issues in Geriatric Medicine
In this workshop, participants will:
learn to explore and discuss with colleagues difficult, troubling moments in medical care, as well as those that are transformative or personally meaningful.
become familiar with common ethical dilemmas that arise in the care of the elderly and general approaches to working with them in the clinical setting.
appreciate the role of health policy in the perpetuation or resolution of troubling ethical issues in the care of the elderly.
** Please see the Assignments for the Ethics Workshop**
Remember: Workshops are held on Mondays. Please see your schedule for details.
Location: All workshops are held at 1224 JPA, 2nd Floor Conference Room, unless otherwise noted on your schedule.