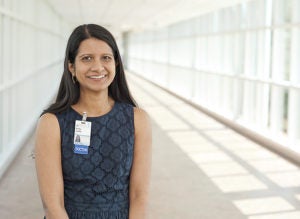 From University of Virginia Health System Connect:
Congratulations to, Amita Sudhir, MD, Associate Professor of Emergency Medicine; Director, Emergency Medicine Clerkship; and Assistant Residency Program Director, on receiving the Alpha Omega Alpha – Anne L. Brodie Teacher's Teacher Award. This annual award is intended to recognize University of Virginia School of Medicine faculty who model excellence in mentoring. In particular, the award recognizes mentoring that fosters clinical educator skills in students, residents, and colleagues.
"As an alumna of this institution — School of Medicine '04 and Residency '07 — I was incredibly honored to be notified of the award," says Sudhir, "but more than a compliment to me, it is a testament to the memorable teaching and guidance I received here as a student, resident, and member of the faculty, which I was then fortunate to be able to pass on to others."
Here are what nominators had to say about Dr. Sudhir:
"… I have come to regard [Amita Sudhir] as a mentor when it comes to teaching. In particular, I have sought to emulate her approach to bedside teaching. I would characterize this approach as one that encourages exploration and autonomy while providing just the right amount of direction." — James Moak, MD, Assistant Professor of Emergency Medicine; Director, Clinical Performance Development-1

"… My mentoring relationship with Amita began during my emergency medicine residency. She was, from day one, a role model of a young, female, academic physician and someone I could identify with. During my third and final year, when I was deciding on a career path, a 10-minute conversation in the hospital cafeteria with Amita changed my life's course dramatically. … She talked about the specific strengths and personality traits she saw in me that she thought were particularly suited to teaching, and told me she thought I would really miss the intellectual stimulation of an academic career. She inspired me in that short time to pursue a medical education fellowship. … While co-directing my fellowship, Amita was committed to my career development, discussing with me on a regular basis what opportunities existed and which would be the most high-yield for my career. She was very protective of my time, and was also a core support for me … throughout that year. I would not have been able to finish the fellowship without her guidance. I came out of the fellowship with a particular interest in medical student education, no doubt due to her positive influence. … I cannot think of a more deserving 'teacher's teacher' for this award." — Heather Streich, MD, Assistant Professor of Emergency Medicine.
Previous awardees include Bill Wilson (2011), Chris Ghaemmaghami (2012), Brian Wispelwey (2013), Sabrina Nuñez (2014), James Moak (2015), and Neeral Shah (2016). Please join us in congratulating Dr. Sudhir!
About the Award
The Alpha Omega Alpha – Anne L. Brodie Teacher's Teacher Award has its origins in another award, The Alpha Omega Alpha Robert J. Glaser Distinguished Teacher Award, which is presented annually at the Association of American Medical Colleges. The Glazer Award recognizes outstanding contributions to the education of medical students and was awarded to our own Dr. Eugene Corbett in 2009. Dr. Corbett and Dr. Mark Mendelsohn — advisor to UVA's chapter of the medical honor society AOA —collaborated to turn the proceeds into an annual teacher's teacher award at UVA.