UVA – Guatemala Initiative
The UVA-GI was formed over 10 years ago to "promote the development of mutually beneficial and sustainable relationships between UVA and the peoples and communities of Guatemala." Because the UVA-Guatemala Initiative places a premium on long-term relationships, we often say: "the relationship then the program then the project"  or that the "relationship drives the program drives the project." Either way, the continuing emphasis on the importance of maintaining these relationships. This is one of the reasons that we stress preparation and "expectation management." This is because, to us, the relationships that we have with each of our collaborators in Guatemala are our most important resource.
The UVA-Guatemala Initiative is a great opportunity for all UVA faculty and students, regardless of level or major.  We have had Faculty, Residents, Medical Students, Graduate and Undergraduate students in the program all seeking an international and global opportunity to enhance their growth and development.  The students have come from a vast range of majors, to include medical, premedical, nursing (including CNL), other sciences, business, as well as liberal arts and other programs.
UVA-GI projects are ongoing and are often built upon the prior student teams or individual research.  The projects are carefully considered, discussed and are mentored by our Guatemalan team members and collaborators as to ensure integrity, respect, and value for the people of Guatemala. Projects are Healthy Communities; Water Filtration; Women's Health; Solar Heat; Language Enrichment Programs (LEP); EMS Capacity Systems (Telemedicine); Electronic Medical Records (EMR); Cardiovascular Disease (CVD) and Global Health at Home (GHAH).
The UVA-Guatemala Initiative offers a host of programs, all which promote respectful and ethical education, service, and research within a framework of sustainable long-term relationships. These programs and opportunities are overall design to enhance the lives of the students by learning and working in Guatemala.
Contacts:
Director, UVA-Guatemala Initiative
Department of Emergency Medicine
Senior Administrative Assistant
Department of Emergency Medicine
---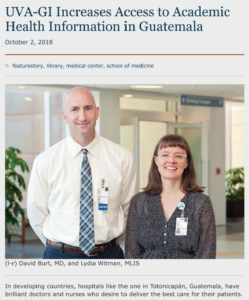 Read about Guatemala Initiative's collaboration with Health System Library and Totonicapán Hospital providers to access medical and academic health information!  The article also annotates ongoing collaborative research projects and programs, remarks from in-country staff and how the UVA-GI provides an enriching experience as well as career development for UVA students, faculty and staff.
Below is information on different offerings within GI.
---
SLC-Guatemala (Service/Language/Culture-Guatemala)
SLC elective for 4th year medical students: This program is available throughout the year to 4th year UVA medical students.  It offers them the opportunity to spend 6-8 weeks in the highlands of Guatemala, providing clinical care within rural Guatemalan communities.  The SLC curriculum combines a carefully structured program of pre-departure preparation, in-country orientation, Spanish language immersion, clinical education, and supervised patient care within the context of sustainable relationships.
SLC international resident's rotation: A resident-level SLC experience that is available throughout the year to UVA medical residents that have an interest in international medicine.  It follows a similar template as the SLC-Guatemala senior medical student elective, but with supervision and responsibility commensurate with the experience of a senior-level resident.  Residents are matched to a Phase III medical service site based on their interests, capabilities, and the needs of that particular site.
SOA-Guatemala (Summer Opportunities Abroad)
This Summer Opportunity Abroad program is open to UVa undergraduates, 2nd year medical students, and Clinical Nurse Leadership (CNL) students during summer break.  The SOA program is designed to provide students the opportunity to spend 6-9 weeks within Guatemala — combining research or service learning opportunities with cultural orientation, Spanish language immersion, and an introduction to international health.  During Phase III of the SOA program, students are placed in collaborating Guatemalan communities as members of interdisciplinary project teams working on research projects in fulfillment of various UVA course assignments.  An emphasis is placed on sustainable collaborations and community participation.
This 16-day multicultural and interdisciplinary UVa Study Abroad course is a collaboration of four different UVa schools and the University del Valle de Guatemala (UVG).  It offers UVA undergraduates an introduction to international global health, an exposure to the culture and peoples of the highland of Guatemala, and a chance to learn and interact with students from another culture.  Students from both schools are full participants within the course, with del Valle students carefully selected by UVG staff at the Altiplano campus.
The application and more information can be found at UVA in Guatemala: Engineering, Public Health & Development.
UVA Faculty Education Abroad (FEA) — Guatemala
This program is designed to provide UVA physicians, Faculty, Nurses and Staff to spend 10-12 days in Guatemala. The FEA is carefully structured to introduction international service learning — combined with cultural orientation, medical education lectures, and a Spanish language immersion experience. Participants also visit students' research sites around Xela and the Lake Atitlán area.
Mentored Independent Research
In addition to its formally structured programs, the UVA-Guatemala Initiative works closely with UVA students and/or groups (medical and non-medical) looking to explore opportunities in appropriate public health-related research, education, or medical humanities work within Guatemala.  Students must have a co-mentor from within their department and agree to participate fully in pre-departure preparations, as well as an intensive in-country orientation process.  Research opportunities are integrated into existing UVA-GI program structures.  An example is a current Engineering in Context collaboration with the community of Tzununa to test point-of-source water filter technology.
UVA (Clinical) Nursing Opportunities Abroad — Guatemala
This program provides UVA clinical nursing staff a structured introduction to the culture and people of Guatemala with Spanish language immersion and an introduction to Guatemalan medicine.  Small groups of UVA nursing staff spend 10 days in Guatemala while completing a carefully developed program of Spanish immersion, cultural study, networking, and site visitations.
Extended Opportunities Abroad 
The UVA-GI facilitates the placement of small numbers of carefully screened UVA graduates within communities and/or organizations within Guatemala that are currently collaborating with UVA.  Students typically spend 6-10 months in Guatemala, usually as a "gap year" prior to advancing to other opportunities.  During this time, they receive close mentorship and guidance.