MS3 EM Clerkship

Welcome to the Emergency Medicine Clerkship!
This is a three-week rotation that will introduce you to basic skills and important concepts within the environment of the emergency department, along with its various divisions. You will spend three weeks in various EM clinical sites and attend dedicated group didactic lectures, workshops and simulation sessions instructed by Emergency Medicine faculty.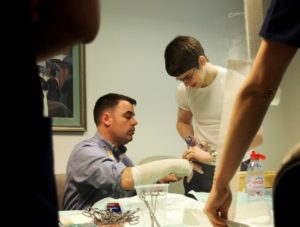 Topics Covered During Your Rotation Include:
Emergency Ultrasound
Cardiac Resuscitation
Emergency Orthopedics
Medical Malpractice
Triage and Disaster Management
Trauma Resuscitation
Toxicology
Basic Wound Care
Suture and Splinting/Joint Immobilization
Current Students
Attendance and Absences
Guidelines for ED note
Journal Articles
Lecture Slide-sets
For more information, please visit the SOM Emergency Medicine Clerkship website.
Contact Information