Critical Care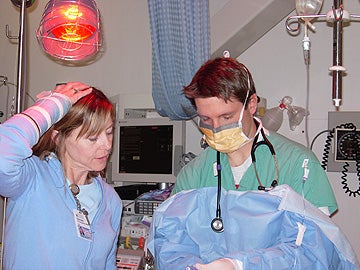 The Department of Emergency Medicine is supported by critical care services.  These include the Pegasus Air & Ground Transport, UVA Medic V, and the Medical Communication Center.
Pegasus Critical Care Transport is a specialized hospital-based air and ground transport service designed to transport critically ill and injured patients.  The pilots, drivers, and crew members are experts in their fields.  They have undergone extensive training and proficiency tests to verify their qualifications.  This service has transported over 11,000 patients since being founded in 1984.
UVA Medic V is a branch of the Medical Transport Network within the UVA Medical Center. The Medic V team includes Emergency Medical Technicians and Paramedics.  They provide designated medical care and transport within UVA Health and other designated locations.  Medic V also coordinates and supports area rescue services as needed and agreed upon within a set area or designated area of coverage.
The Medical Communications Center, also known as MEDCOM, is co-located within UVA Health.  It is a service that is unique as it monitors and provides assistance with communication with pre-hospital, inner-hospital, and community services and providers.  Through MEDCOM, clear and concise communication is provided for urgent and emergent situations.
These three services, while not the only supporting services, are critical services used within UVA Health and directly associated with the UVA Emergency Department.