David R. Burt, MD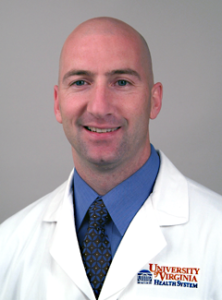 Associate Professor of Emergency Medicine
Director, Cardiovascular Emergency Fellowship
Founder, Project UPSTART
P.O. Box 800699
Charlottesville, VA 22908-0699
Phone: (434) 924-2428 / 924-8488
Fax: (434) 924-2877
E-mail: drb5p@virginia.edu
Education
BS, Fisheries/ Wildlife Biology, University of North Dakota (1994)
MD, University of North Dakota School of Medicine (1999)
Residency, Emergency Medicine, Butterworth Hospital Grand Rapids, Michigan (2000)
Elective in International Emergency Medicine, Guatemala (2002)
Fellowship, Cardiovascular Emergencies, University of Virginia Health System (2003)
Clinical and Research Interests
Refinement of Systems of Care for acute heart attack, stroke and sudden incident cardiac arrest
Quality Improvement Strategies in acute myocardial infarction, stroke and cardiac arrest
Adult education theory and its application within the emergency and acute care environment
Simulation medicine and its utilization within resident and medical school education
International program development theory and application
Guatemala-focused educational program development and outreach and EMS ECG education.
Selected Publications
Redko C, Bessong P, Burt D, Luna M, Maling S, Moore C, Ntirenganya F, Martin AN, Petroze R, den Hartog J, Ballard A, Dillingham R1. "Exploring the Significance of Bidirectional Learning for Global Health Education." Ann Glob Health. 2016 Nov – Dec;82(6):955-963. doi: 10.1016/j.aogh.2016.11.008.
Reagan H. Thompson, Audrey E. Snyder, David R. Burt, Doris S. Greiner and Max A. Luna; Risk Screening for Cardiovascular Disease and Diabetes in Latino Migrant Farmworkers: A Role for the Community Health Worker; J Community Health (2015) 40:131–137
Mark D DeBoer, MD, MSc, MCR1,7; David Chen2; David Burt MD3; Manuel Ramirez-Zea, MD, Ph.D4, Richard L Guerrant, MD2; Aryeh D Stein, Ph.D5, Reynaldo Martorell, Ph.D5, and Max A. Luna, MD6.  Early childhood diarrhea burden and cardiometabolic risk factors in adulthood: The Institute of Nutrition of Central America and Panama (INCAP) Nutritional Supplementation Longitudinal Study. Int J Epi [in press]
Julia den Hartog, Laura Rosenbaum, Zachary Wood, David Burt, William A. Petri Jr. Diagnosis of Multiple Enteric Protozoan Infections by ELISA in the Guatemalan Highlands­. Journal of the American Society of Tropical Medicine and Hygiene [in press]
Intolubbe-Chmil, Loren, Robert Swap, Kent Wayland, Joseph Francis, Jessica Ohana Gonzalez, Anselmo G. Canfora, Susanna Williams, James Ngundi, Caroline Berinyuy, David Burt, and Carol Anne Spreen. (2011). Assessment of International Service Learning and Community Engagement: Case Studies at the University of Virginia. In B. Harrison, B. O'Steen, P. Clayton, K. Edwards, & Editorial Fellows (Eds.), Proceedings of the International Association for Research on Service-Learning and Community Engagement 11th Annual Conference (pp. 176-177). New Orleans, LA: IARSLCE
David R Burt, Chris Ghaemmaghami, University of Virginia, Charlottesville, VA; Robert Rosen, Culpeper Regional Hosp, Culpeper, VA; Larry Gimple, Robert O'Connor, University of Virginia, Charlottesville, VA, "Standardized STEMI Alert Protocols and Interfacility Transfer Guidelines Optimize STEMI Reperfusion Times", American Heart Association Scientific Sessions 2011, Orlando, FL; November 15, 2011
David Burt, "Service/Learning/Culture (SLC) for UVA Medical Students." University of Virginia School of Medicine; 2011 Academy of Distinguished Educators (ADE), March 9, 2011.
David Burt, Jonathan Abelson, Jessica Ohana Gonzalez; "The Service/Language/Culture Guatemala Elective: A culturally and Economically Equitable Collaboration with Underserved Guatemala Communities", Cincinnati Children's Hospital Global Health Symposium, 2010
David Burt, Steven Tropello, Sandra Chase, Kathleen Johnston, Richard McNamara: "The Impact of Project UPSTART (The Use of Procedural Standardization to Reduce Recognition to Reperfusion Time in STEMI) on STEMI treatment Times at Two Dissimilar PCI Centers"; American Heart Association, 2008 Annual Scientific Conferences, April 30-May 2, 2008.
Thomas JJ, Jeffrey St. Amant J, Brady WJ, Burt DR, Holstege CP, Ghaemmaghami CA: Emergency Physicians are Reliable at Cardiac Catheterization Lab Activation in the Setting of Acute STEMI. Critical Pathways in Cardiology 2007
David R Burt, Sandra L Chase, Kathleen A Johnston; " Impact of an Acute Myocardial Infarction Quality Improvement Team and Utilization of a STEMI ALERT Process on Decreasing Time to Treatment in STEMI"; American Heart Association: 7th Scientific Forum on Quality of Care and Outcomes Research in Cardiovascular Disease and Stroke; Washington, DC; May 8-9, 2006.
Ghaemmaghami* Chris A. and Burt, David R.  Acute Reperfusion Therapy in Acute Myocardial Infarction.  Emergency Medicine Clinics of North America; Volume 23(4): 1043-1063, 2005 Nov. Cited 0 times.  IF = 1.294, Ranked 11 of 23 Emergency Medicine journals.