Deborah T. Vinton, MD, MBA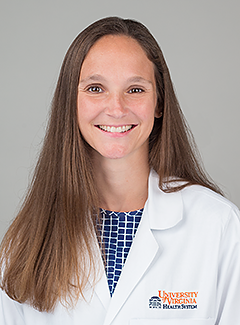 Assistant Professor of Emergency Medicine
Medical Director, Emergency Department
Medical Director, Forensic Examiner FNE Program
P.O. Box 800699
Charlottesville, VA 22908-0699
Phone: (434) 924-8485
Fax: (434) 924-2877
E-mail: dv9j@hscmail.mcc.virginia.edu
Education
MBA, Physician Executive Program, University of Tennessee (2018)
Residency, Emergency Medicine, Denver Health (2013)
MD, Harvard Medical School (2009)
BA, Psychology and Brain Sciences, Dartmouth College (2002)
---
Clinical and Research Interests
Evaluation of Patient Satisfaction and Efficiencies in Emergency Department Operations
Peripartum and Postpartum Emergencies and Emergency Care
Met-Analysis and Predictions of Frequent Emergency Care patients
---
Publications
Vinton D., Sanchez LD. Management of the Academic Emergency Department.. Emergency medicine clinics of North America. 2020-08;38:715-727.
Vinton D, (2015). Third Trimester Complications and Delivery. In Markovchick V. et al. (Ed.),
Emergency Medicine Secrets. Elsevier, Inc.
Vinton D, Rook S, Abbott J, Ginde A. Frequent Users of U.S. Emergency Departments:
Characteristics and Opportunities for Intervention. Emergency Medicine Journal, 2014 Jan 28 (epub). Cited in Pubmed: PMID: 24473411
Easter J, Vinton D, Haukoos J. Emergent Pediatric Thoracotomy Following Traumatic Arrest. Resuscitation. 2012 December. Volume 83, Issue 12, Pages 1521-1524.Cited in Pubmed: PMID: 22705411
Vinton D, Moriera M. (2012). Large Group Presentation Skills and Presentation Tools. In Guth et al. Resident as Teacher Handbook. American College of Emergency Physicians.
Vinton D, Tate I. (2012). Gastrointestinal Emergencies. In Blok et al. (Ed.), First Aid for the Emergency Medicine Boards. McGraw-Hill.