George F. Glass, III, MD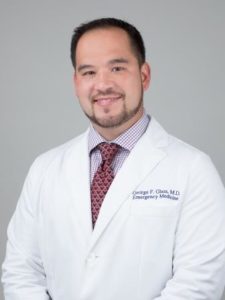 Assistant Professor of Emergency Medicine
P.O. Box 800699
Charlottesville, Virginia 22908-0699
Phone: (434) 924-8485
Fax: (434) 924-2877
E-mail: GFG3W@virginia.edu
Education
Certificate in Public Health Sciences, University of Virginia (2017)

 

Trauma Research Fellow, University of Virginia  (2017)
Residency, Emergency Medicine, University of Virginia   (2015)
M.D., University of Virginia (2012)
B.Sc., Biomedical Engineering, University of Virginia, (2007)
---
Clinical and Research Interests
Biomechanics of Cardiopulmonary Resuscitation
ECG Diagnosis of Cardiovascular Emergencies
High Fidelity & VR Simulation for Medical Education
Trauma Biomechanics
---
Publications
Glass G, Hartka TR, Keim-Malpass J, Enfield KB, Clark MT. Dynamic data in the ED predict requirement for ICU transfer following acute care admissions. J Clin Monit Comput 2020 Mar 19
Glass G, O'Connor R, Brady WJ. Useful addition to acute myocardial infarction diagnosis in patients with left bundle branch block: an algorithm using electrocardiographic and biomarker analysis. Heart. 2019;105(20):1530–1532. doi:10.1136/heartjnl-2019-315380.
Glass GF 3rd, Brady WJ. Bystander Intervention in Out-of-Hospital Cardiac Arrest. JAMA Netw Open. 2019;2(3):e191008. Published 2019 Mar 1. doi:10.1001/jamanetworkopen.2019.1008.
Hartka T, Glass G, Kao C, McMurry T. Development of injury risk models to guide CT evaluation in the emergency department after motor vehicle collisions. Traffic Inj Prev. 2018;19(sup2):S114–S120. doi:10.1080/15389588.2018.1543872.
Solberg, R, Glass, G. Adjusting D-dimer cutoffs: Brief literature summary and issues in clinical use. Am J Emerg Med. 2018 Nov; 36(11): 2105-2107.