George F. Glass, III, MD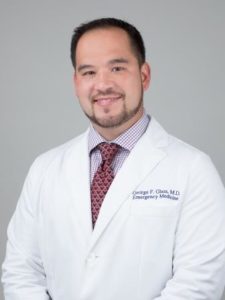 Assistant Professor of Emergency Medicine
Assistant Research Director, EMRO
P.O. Box 800699
Charlottesville, Virginia 22908-0699
Phone: (434) 924-8485
Fax: (434) 924-2877
E-mail: GFG3W@virginia.edu
Recipient of the 2020 Faculty Teaching Award, UVA Emergency Medicine Residency.
Education
Certificate in Public Health Sciences, University of Virginia (2017)

 

Trauma Research Fellow, University of Virginia  (2017)
Residency, Emergency Medicine, University of Virginia   (2015)
M.D., University of Virginia (2012)
B.Sc., Biomedical Engineering, University of Virginia, (2007)
---
Clinical and Research Interests
Biomechanics of Cardiopulmonary Resuscitation
ECG Diagnosis of Cardiovascular Emergencies
High Fidelity & VR Simulation for Medical Education
Trauma Biomechanics
---
Recent Publications
George Glass, Pavel Chernyavskiy, Thomas Hartka, Bethany Neri & James F. Calland (2022): Proximity to fatal accidents predicts police citation rates on urban and rural roads, Traffic Injury Prevention, DOI: 10.1080/15389588.2022.2110590
Hartka T, Glass G, Chernyavskiy P. Evaluation of mechanism of injury criteria for field triage of occupants involved in motor vehicle collisions. Traffic Inj Prev. 2022 Jul 25:1-6. doi: 10.1080/15389588.2022.2092101. Epub ahead of print. PMID: 35877985.
Dodd KW, Zvosec DL, Hart MA, Glass G 3rd, Bannister LE, Body RM, Boggust BA, Brady WJ, Chang AM, Cullen L, Gómez-Vicente R, Huis In 't Veld MA, Karim RM, Meyers HP 3rd, Miranda DF, Mitchell GJ, Reynard C, Rice C, Salverda BJ, Stellpflug SJ, Tolia VM, Walsh BM, White JL, Smith SW; PERFECT study investigators (the complete list of PERFECT study investigators is provided in Appendix E1, available at http://www.annemergmed.com). Electrocardiographic Diagnosis of Acute Coronary Occlusion Myocardial Infarction in Ventricular Paced Rhythm Using the Modified Sgarbossa Criteria. Ann Emerg Med. 2021 Jun 22:S0196-0644(21)00249-3. doi: 10.1016/j.annemergmed.2021.03.036. Epub ahead of print. PMID: 34172301.
Glass G, Hartka TR, Keim-Malpass J, Enfield KB, Clark MT. Dynamic data in the ED predict requirement for ICU transfer following acute care admissions. J Clin Monit Comput 2020 Mar 19
Glass G, O'Connor R, Brady WJ. Useful addition to acute myocardial infarction diagnosis in patients with left bundle branch block: an algorithm using electrocardiographic and biomarker analysis. Heart. 2019;105(20):1530–1532. doi:10.1136/heartjnl-2019-315380.
Glass GF 3rd, Brady WJ. Bystander Intervention in Out-of-Hospital Cardiac Arrest. JAMA Netw Open. 2019;2(3):e191008. Published 2019 Mar 1. doi:10.1001/jamanetworkopen.2019.1008.
Hartka T, Glass G, Kao C, McMurry T. Development of injury risk models to guide CT evaluation in the emergency department after motor vehicle collisions. Traffic Inj Prev. 2018;19(sup2):S114–S120. doi:10.1080/15389588.2018.1543872.