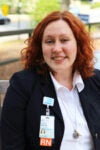 Mitchell, Emma
Primary Appointment
SON
Contact Information
PO Box 800782
McLeod 5037
Telephone: (434) 243-3962
Email: emm6z@virginia.edu
Research Disciplines
Annual Research Fair, Cancer Biology, Nursing
Research Interests
Cervical cancer screening and HPV testing in underrepresented populations.
Research Description
Cervical cancer is a cancer of disparities. While significant advancements have been made in screening and treatment, low levels of screening and high levels of subsequent mortality remain in several areas in Virginia. Many women in far Southwest Virginia within the Tobacco Footprint are un- or under-insured, and do not participate in recommended screening intervals for cervical cancer, and are therefore under- or never-screened. At-home self-collection of specimens for HPV testing is an innovative approach that may increase access to cervical cancer screening in populations that do not participate in traditional clinic-based screening. My current mixed-methods community based participatory study aims to determine whether offering at-home self-collection for HPV testing through a lay navigator/community health worker (CHW) network is an acceptable and feasible method to increase access to cervical cancer screening for under-screened women in the Tobacco Footprint in rural far Southwest Virginia. An additional project is at the beginning stages looking at whether at-home self-collection for HPV testing is culturally appropriate and feasible for roll out with Latina women living in rural settings. Student rolls would involve: some data collection; data entry, organization and managing of incoming samples; and preliminary data analysis.
Selected Publications