Catherine F. Casey, MD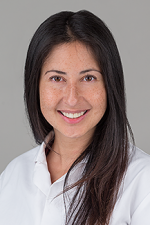 Catherine F. Casey, MD
Associate Professor
Family Medicine Clerkship Director
MD Degree: University of Buffalo
Residency: Family Medicine, University of Virginia
I am originally from Ithaca, New York.  I did my undergraduate training at Cornell University, my hometown school, and went to medical school at the University at Buffalo. Eager to see what Family Medicine was like outside of the Northeast (and ready for some sunshine), I came to Charlottesville for my residency training.  After graduating, I was lucky enough to be hired as a faculty member and complete the Faculty Development Fellowship.  I now work at our satellite clinic in Crozet, see nursing home patients, co-direct the Family Medicine Clerkship for third-year students, and help teach the residents.  I enjoy my stints on our hospital service, and while I no longer deliver babies, I love providing prenatal (and postnatal) care.
Family Medicine constantly offers me new opportunities to broaden my knowledge and my skill sets. I enjoy providing personalized care to patients and their families, keeping their goals and values in mind. Teaching medical students and residents opens me up to new ways of thinking and reaffirms my commitment to Family Medicine as a profession.
My non-working hours are divided between my son, Dylan, the New Yorker magazine, and dancing and horseback riding (when I can squeeze them in).