Dawn W. Bourne, DNP, RN, FNP-BC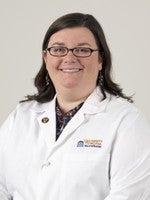 Dawn W. Bourne, DNP, RN, FNP-BC
Family Nurse Practitioner
Instructor of Family Medicine
DNP Degree: University of Virginia
MSN/FNP Nursing Degree: University of Virginia
RN/BS Nursing Degree: University of Virginia
I am honored to be part of the Family Medicine Department here at UVa.  I have spent my entire life in central Virginia.  I completed my Bachelor of Science in Nursing at UVa in 2004.  I then began my nursing practice here in the Medical Intensive Care Unit (MICU).  I practiced there until 2010, when I obtained a Master of Science in Nursing with certification as a Family Nurse Practitioner.  Working in the MICU here at UVa and being surrounded by such supportive, strong and intelligent co-workers inspired me to change my career to focus on disease prevention rather than critical care.
My doctoral work here at UVa focused on ethics in primary care, specifically moral distress and how it impacts physicians and nurse practitioners.  I am also a member of the Ethics Consult Service and Moral Distress Consult Service for the Health System.
I have practiced at two family practices in rural locations south of Charlottesville as a Family Nurse Practitioner since 2010.  This has helped me gain insight to various disease states as well as an interest in affordable health care.  I enjoy seeing a patient population of various ages and disease processes.  I have a special interest in preventative and wellness care for women and children.