Donna A. Landen, MD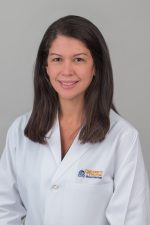 Donna A. Landen, MD
Assistant Professor
International Family Medicine
MD Degree: Medical University of South Carolina
Residency: University of Texas, Houston
ABMS Certification: Family Medicine, Current – 2015
I joined the faculty at UVA Family Medicine in September 2015.
I'm originally from South Florida, but moved to the North Carolina in my 20s.
I have always had a love for medicine and helping people, but outside factors led me to my first career in accounting. I was able to put myself through school, while working in accounting and did really well. However, the call to medicine continued to pull me until I made a career change. I started medical school at UNC Chapel Hill, but along the way, I met and married my husband, Chip. His career in Gynecologic Oncology took us to several cities. I transferred medical schools to MUSC in Charleston, then completed residency training in Houston, TX, and stayed on as faculty. From there we moved to Birmingham, Alabama; I was with UAB for five years before relocating to Charlottesville. We really love this area and plan to stay (especially since the grandparents are now close enough to help with our three children!).
I have an interest in Women's Health and International medicine, as well as underserved populations. I also enjoy working with residents and medical students, and I am grateful to be in a department that has strong physicians in training. My main clinic is at the Crossroads location, but I also work in the International Family Medicine Clinic at the main Primary Care Clinic.
In my spare time, I enjoy running, cooking and spending time with my family. I'm looking forward to exploring more of this beautiful part of the country.