Rebekah Compton, DNP, RN, FNP-BC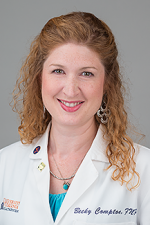 Rebekah Compton, DNP, RN, FNP-BC
Director, Ambulatory Quality Improvement
Family Nurse Practitioner
DNP Degree: University of Alabama
MSN/FNP Nursing Degree: University of Virginia
RN/BS Nursing Degree: Pensacola Christian College
Rebekah (Becky) Compton, DNP, RN, FNP-BC, received her MSN at the University of Virginia, School of Nursing in 2005, and completed her Doctorate of Nursing Practice at the University of Alabama in 2014. Rebekah Compton joined the Family Medicine Clinic in 2006, where she provides care to patients of all ages including prenatal care. She has a specific interest in Women's Health and provides a number of women's healthcare procedures, including colposcopy; IUD insertions and removals; Nexplanon insertions and removals; and endometrial biopsies. Having a passion for providing care for the refugee population of Charlottesville, she has clinical sessions dedicated entirely to the care of refugees.
Rebekah is the Associate Medical Director of the UVA Family Medicine Primary Care Center and has played a key role in leading the Family Medicine Clinic to obtain the NCQA accreditation for being a "Patient-Centered Medical Home." Currently she is on the state board of the Virginia Council of Nurse Practitioners, and is actively engaged in state and regional activities for NPs. She is a board-certified Family Nurse Practitioner and has completed the American Society for Colposcopy and Cervical Pathology Mentorship Program.
When Rebekah is not at work, she enjoys spending time biking, hiking, playing the piano, and spending time with her husband and three children.