Susan M. Pollart, MD, MS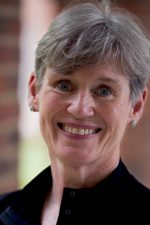 Susan M. Pollart, MD, MS
Ruth E. Murdaugh Professor
Senior Associate Dean for Faculty Affairs and Faculty Development
MD Degree: University of Virginia
Residency: Family Medicine, University of Virginia, Chief Resident
You can tell a lot about a ten year old by the library books she reads. When I was in elementary school, I always checked out biographies. From my earliest years, I was fascinated by peoples' stories. Those same stories are what make Family Medicine fascinating to me.
I am the first daughter and second born of a family of five children birthed over a span of six years. My parents are both products of the Depression, my mother the child of Irish immigrants and my father born in southeastern Colorado on the cusp of the Dust Bowl. As first generation college students who pursued advanced degrees in their fields, both my mother and father appreciated education as a tool to expand not only their horizons but those of their children. This love of and respect for education was passed to the five of us and accounts for my early desire to pursue a medical degree.
I chose Family Medicine as a career when it was in its first decade as a specialty. I still love it and I am gratified that there is increasing recognition of the key role that family physicians can play in the health of our country.
I received my undergraduate education in West Virginia, my family's home during my teen years. I came to Virginia in 1978 to attend medical school and have been in Charlottesville ever since. I completed residency at UVA in 1985, serving as Chief Resident my last year and then went on to do three years of clinical and bench research in allergic diseases as part of a Public Health Service payback.
In 1988, I joined the faculty with a joint appointment in Family Medicine and the Asthma, Allergy and Immunology Division of the Department of Medicine. In my years since then, I have enjoyed participating in research related to risk factors for asthma, teaching medical students and residents, developing and directing a scholarship program for students bound for a career in generalist medicine and providing the full range of patient care in Family Medicine including obstetrics. In 2006, I joined the staff of the Office of the Dean of the School of Medicine and currently serve as Senior Associate Dean for Faculty Affairs and Faculty Development while continuing to spend about a quarter of my time as a family physician. I often think of my dean role as a natural extension of my career as family doctor. In both roles I take great pleasure in helping those that I serve reach their personal and professional goals.
I am currently the Walter M. Seward Professor and Interim Chair of Family Medicine. As my years in Family Medicine grow, so does the collection of stories I have experienced with patients, students, and colleagues. While I am fascinated by the advances in medical science, it is the richness of the stories that I hear that will always keep me interested and energized in my daily work.
Online Publications:
Does formal mentoring for faculty members matter? A survey of clinical faculty members. Mylona E, Brubaker L, Williams VN, Novielli KD, Lyness JM, Pollart SM, Dandar V, Bunton SA. Med Educ. 2016 Jun;50(6):670-81. doi: 10.1111/medu.12972. PMID: 27170085
Characteristics, satisfaction, and engagement of part-time faculty at U.S. medical schools. Pollart SM, Dandar V, Brubaker L, Chaudron L, Morrison LA, Fox S, Mylona E, Bunton SA. Acad Med. 2015 Mar;90(3):355-64. doi: 10.1097/ACM.0000000000000470. PMID: 25186817
Time well spent: the association between time and effort allocation and intent to leave among clinical faculty. Pollart SM, Novielli KD, Brubaker L, Fox S, Dandar V, Radosevich DM, Misfeldt ML. Acad Med. 2015 Mar;90(3):365-71. doi: 10.1097/ACM.0000000000000458. PMID: 25119554
Challenges in academic obstetrics and gynecology departments. Brubaker L, Wagner S, Novielli KD, Pollart SM, Dandar V, Radosevich DM, Fox S. Obstet Gynecol. 2013 Nov;122(5):1092-9. doi: 10.1097/AOG.0b013e3182a9c24f. PMID: 24104786
Predictors of workplace satisfaction for U.S. medical school faculty in an era of change and challenge. Bunton SA, Corrice AM, Pollart SM, Novielli KD, Williams VN, Morrison LA, Mylona E, Fox S. Acad Med. 2012 May;87(5):574-81. doi: 10.1097/ACM.0b013e31824d2b37. PMID: 22450175
Changing conversations, changing culture: a medical education journal club. Pollart SM, Caelleigh AS. Med Educ. 2011 Nov;45(11):1134. doi: 10.1111/j.1365-2923.2011.04119.x. Epub 2011 Sep 21. PMID: 21939448