Ted Siedlecki, Jr., PhD, CGP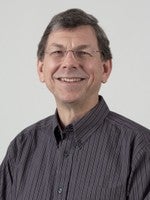 Ted Siedlecki, Jr., PhD, CGP
Assistant Professor
Family Stress Clinic
PhD Degree: Clinical Psychology, University of Virginia
Clinical Internship: Philadelphia Child Guidance Clinic
I am a Clinical Psychologist, and I work with Claudia Allen in providing Behavioral Science instruction, clinical supervision and direct psychological services.  I am conversant in American Sign Language and provide services to Deaf persons and their families.  Recently, I have begun working with the UVA-Guatemala Initiative to establish a collaboration with UVA's American Sign Language program.  I also enjoy working with gay and lesbian individuals and couples.  As a Certified Group Psychotherapist, I have an interest in establishing psychotherapy and psycho-educational groups for patients.
I moved to Charlottesville in 1985 from New York City.  I was drawn to the physical beauty of the area and the gentle, but rich, quality of life.  Both the mountains and beaches are within reach.  The presence of the University and a sophisticated segment of our local community bring a variety of cultural opportunities to our small city.  It is a little bit of everything good.  My partner and I raised our two sons here.  I am active in the Charlottesville Quaker Meeting, and I enjoy walking the Rivanna Trail which circles our city.
I am delighted and proud to be a part of this dynamic department that is dedicated to training family doctors to be both scientists and healers.  The work is exciting.  The challenges are many and varied, but helpful and friendly colleagues are always available.  I love being part of a noble enterprise that will positively affect our society for years to come.