Beckman Coulter CyAn ADP LX
The CyAn ADP LX has 11 parameters (FSC, SCC, FL1-FL9) and is equipped with 488nm, 633nm, and 405nm solid-state lasers. This model is ideal for up to 9 color analysis. Typical fluorochromes which can be used are FITC, GFP, CFSE, Alexa 488, PE, PE-Cy5, PI, PE-Cy5.5, PerCP, 7-AAD, PE-Cy7, APC, Alexa 647, Alexa 633, APC-Cy7, APC-Cy5.5, Pacific Blue, Cascade Yellow, Pacific Orange, and Cyan Fluorescent Protein.
Click here to view the optical layout.
The CyAn uses Summit Acquisition software.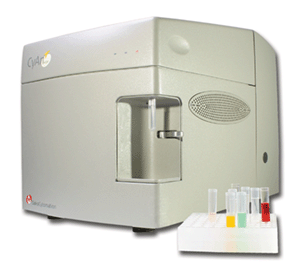 Consult the facility for fluorochrome combination feasibility and necessary controls prior to designing your experiment. Feel free to use the Staining Panel Worksheet to organize your experiment. Located in Pinn Hall, Room 2011; 434-243-2711.
See Scheduling for information on scheduling time on this instrument.