Cytek Aurora Borealis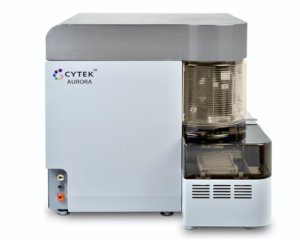 Click here for a panel design grid to help design your antibody panels.
Click here to evaluate and optimize your panel design using the Cytek Full Spectrum Viewer.
5 lasers – blue (488nm – 50mW), violet (405nm – 100mW), yellow-green (561nm – 50mW), red (640nm – 80mW) and UV (355nm – 20mW)
3 scattering channels
up to 64 fluorescence detectors
Autosampler – 96 well plate
Additional resources:
Optimized Multicolor Immunofluorescence Panel (OMIP) is a special peer-reviewed Cytometry Part A publication type that reports on newly designed and optimized multicolor panels for flow cytometry.