Fluidigm CyTOF 2 – Helios Upgrade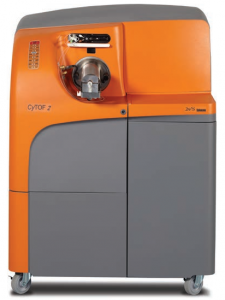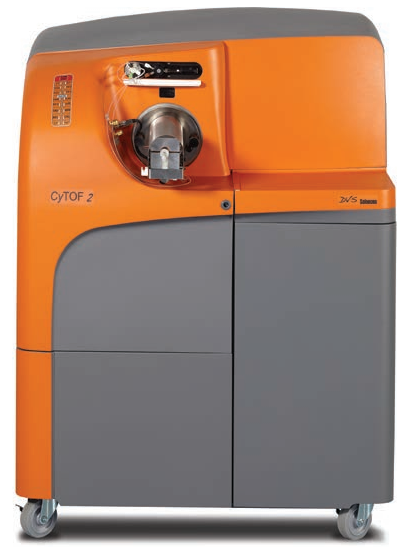 The CyTOF Helios Mass Cytometer simultaneously resolves multiple parameters with minimal signal overlap, providing unprecedented insights into the functional and phenotypic complexity of biological systems at the single cell level.
The CyTOF Helios analyzes cells labeled with a panel of reagents conjugated to heavy metal isotopes using state-of-the art time of flight mass cytometry technology.
With over 100 detection channels and over 30 isotopic metal probes, CyTOF Helios simplifies panel design and unlocks the functional and phenotypic complexity of biological systems at the single cell level.
Mass cytometry experiments routinely measure dozens of functional and phenotypic parameters in millions of single cells, output as .txt and .fcs files. Analysis of such high dimensional datasets is performed using a tool kit that includes not only traditional histograms and bivariate plots, but also novel clustering algorithms, neural networks, and dimensionality reduction methods.
Fluidigm has partnered with Cytobank to provide DVS Cytobank, a cloud-based platform that offers an extensive suite of powerful tools for analysis of mass cytometry data, including:
The SPADE clustering algorithm and viSNE for high dimensional panel analysis
Histograms, bivariate plots, gating tools and statistics for traditional cytometric analysis
Heat maps and dose response curves for comprehensive summarization of experimental data
Intuitive management of files and analysis results, with secure storage and backup
Web-based tools for sharing data and analysis with collaborators
For more information, please click here.
CyTOF data analysis – High-Dimensional Single Cell Analysis
Consult the facility for metal combinations, appropriate controls, and other considerations prior to designing your experiment.
Located in Pinn Hall, Room 2013; 434-243-7682.