BD/Cytek FACSCaliburs
There are three FACSCalibur instruments in the FlowCore facility:
FACSCalibur B uses CellQuest Pro and Rainbow Acquisition software

A total of two channels can be selected with FACSCalibur B; either 2 off the 407nm or 1 off the 407nm and 1 off the 637nm. The Rainbow User Guide is available here as well as a Rainbow Video Tutorial
See the chart below for specific instrument configurations and optical layouts (click on FACSCalibur name):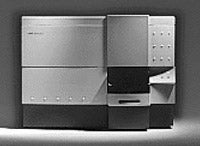 Consult the facility for fluorochrome combination feasibility and necessary controls prior to designing your experiment. Optical layout and panel design assistance can be found here for Calibur A,  for Calibur B (Blue/Violet) (Blue/Red/Violet), and Calibur D here.
Located in Pinn Hall, Room 2011; 434-243-2711.