Gauri Raval, MD, MPH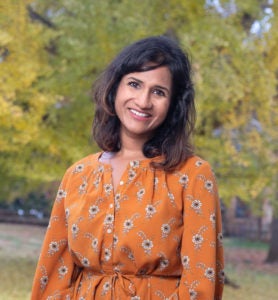 As a recent graduate of the Generalist Scholars Program myself, the GSP is near and dear to my heart, and I am thrilled to now be part of the faculty!
I grew up in Richmond, Virginia and completed my undergraduate degree in human biology and foreign affairs at UVA.  I also went to medical school here at UVA; and as a part of GSP, I was lucky to be mentored by faculty like Dr. Norm Oliver, Dr. Sean Reed, and Dr. John Schorling. I was also inspired by Dr. Diane Pappas' work in child advocacy.  During medical school, I completed a master's degree in public health from Johns Hopkins University. Afterwards, I traveled to New York to pursue my pediatric training at Columbia University.
I then joined the faculty in General Pediatrics at UVA in 2016. I work primarily at Northridge Pediatrics, where I enjoy practicing primary care and building long-term relationships with families. I also love my work in the UVA Birdsong General Pediatrics clinic as well as on the Newborn Medicine service.
My academic interests are in global and public health (I have worked in South Africa, India, Guatemala, and Bangladesh), health disparities, child mental health, and medical education. Currently, I serve as the Cultural Competency/Humility Thread Leader in the School of Medicine.
Outside of work, I enjoy spending time with family and friends. I recently started a book club and ran my first (and last!) marathon. I also enjoy gardening, meditation, yoga, hiking, and travel.